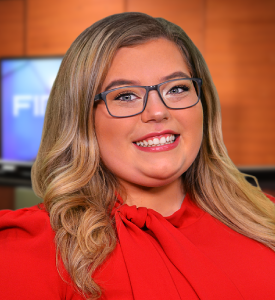 ASHLEIGH BRYANT
WCBI WEATHER TEAM
Ashleigh Bryant grew up as a Georgia peach, in the city of Kennesaw. She experienced several severe weather events, including the 2017 Snowpocalypse, the 2019 Snowmageddon, and many tornadoes.
Ashleigh attended the University of South Alabama in Mobile, the birthplace of Mardi Gras. She graduated in 2021 with a Bachelor's degree in Meteorology and a minor in Mathematics.
Straight out of college, Ashleigh moved to Cheyenne, Wyoming to be the Morning Meteorologist at KGWN. Ashleigh got to cover everything from winter storms to fire weather and frequent high wind warnings. She forecasted live from Cheyenne Frontier Days, which is the world's largest outdoor rodeo and western celebration.
Ashleigh joined the WCBI weather team in August 2022 and looks forward to getting involved in the community.
If you would like to reach out to say hi or send in weather pics, you can do so via  Facebook: Meteorologist Ashleigh Bryant, Twitter @abryantwx, Instagram: abryant_wx, TikTok @abweather, or by email at abryant@wcbi.com.
If you would like to connect with Ashleigh, you can email her at abryant@wcbi.com.