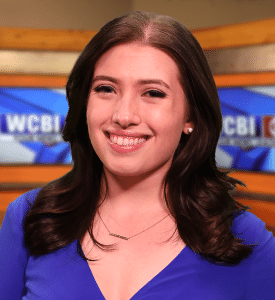 COURTNEY ROBB
ANCHOR/REPORTER – WCBI SPORTS
Courtney Robb joined the WCBI sports team in June of 2018 after graduating from Indiana University with a bachelor's degree in journalism. Go Hoosiers!
Courtney has dedicated her life to sports journalism since the day she set foot on IU's campus.
She began as a beat reporter for the Indiana Daily Student. From there, she moved into broadcasting where she worked as a sideline reporter for Big Ten Network's Student U program. She covered an IU men's basketball season opener, the women's basketball team on their run to winning the 2018 WNIT, the largest collegiate bicycle race in the country, the Little 500, and the IU baseball team that was once led by now Mississippi State head coach Chris Lemonis. When she wasn't on the sidelines, she worked as a part-time sports reporter/videographer for the Bloomington Herald-Times. She even worked as a production assistant for CBS Sports Network at the 2018 Men's Final Four in San Antonio, Texas.
Shortly after graduation, Courtney became the first female IU student named to the Sports Talent Agency of America's All-America List which honors the best collegiate sports broadcasters in the country.
Courtney grew up in Chicago, Illinois, and is very passionate about her hometown teams but loves covering the vast sports talent that the Golden Triangle has to offer.
When she's not at the station, you can find Courtney with coffee in hand promoting her love for deep dish pizza and binge-watching her favorite shows.
If you have a sports story or you want to connect with Courtney, make sure to follow her on Twitter and Facebook or email her at courtneyrobb@wcbi.com.