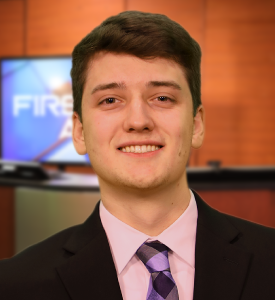 Dylan Hudler
WCBI Weather Team
Dylan joined the WCBI Weather Team in January 2022. Currently, he is studying Broadcast Meteorology with a minor in Communications at Mississippi State University and is set to graduate in 2024.
He was born and raised in Winston-Salem, North Carolina and came all the way to Starkville to study the weather.
Dylan has loved the weather his entire life. He even used to stand in front of the living room television and give mock weather forecasts to his parents! Thunderstorms have especially always fascinated him. Dylan's father would drive him around town in the summer-time and "chase" pop-up storms.
Dylan is a member of the East Mississippi Chapter of the National Weather Association and American Meteorological Society.
When Dylan is not at WCBI, he likes to play Xbox, watch sports, and cheer on the North Carolina Tar Heels, and Hail State!
If you have a weather story or you want to connect with Dylan, be sure to follow him on Twitter (@DylanHudlerWX), find him on Facebook (@Meteorologist Dylan Hudler), or email him at dhudler@wcbi.com.