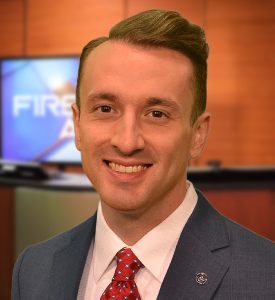 ISAAC WILLIAMS
CHIEF METEOROLOGIST
WCBI WEATHER TEAM
Isaac rejoined the WCBI weather team as chief meteorologist in August 2021. If you remember, he also worked at WCBI from 2014 to early 2017. In between stints at WCBI, he worked at WHNS-TV in Greenville, SC, and KVEO-TV in Harlingen, Texas.
Isaac earned a Master's Degree in Geosciences from Mississippi State in 2014 and a Bachelor's Degree in Geography from the University of Alabama in 2012. He also holds a seal of certification from the National Weather Association.
Isaac lived in Tuscaloosa during the tragic April 27, 2011 tornado outbreak and was working in Huntsville during the April 28, 2014 outbreak. He's no stranger to covering severe weather and knows the importance of covering it calmly and accurately.
When not forecasting the weather, you can catch Isaac trying out a new recipe, working out at Orange Theory, or traveling! (when the weather allows). He also teaches at Mississippi State University part-time. In the fall, catch him cheering on his beloved Alabama Crimson Tide football team.
Connect with Isaac on Twitter @Wx_Isaac, Instagram @Wx_Isaac, Facebook @Meteorologist Isaac Williams, and via email at isaacwilliams@wcbi.com.