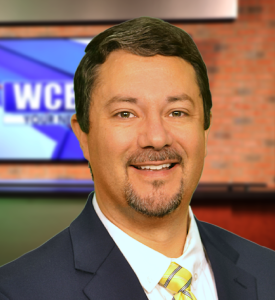 JOEY BARNES
NEWS DIRECTOR/ANCHOR
Joey Barnes has been reporting the news of North Mississippi and West Alabama for nearly 20 years. He relies on his deep roots in the area to bring award-winning coverage to WCBI viewers day in and day out.
Joey got his start in the news business as an intern at WCBI in 2002. He rose to senior reporter in five years before leaving for stints as a recruiter for his alma mater, Mississippi University for Women, a reporter in Davenport, Iowa, and with central Mississippi's news leader, WLBT, in Jackson, where he was a reporter and weekend anchor.
He returned to WCBI from Jackson in December 2013 and now helps guide the newsroom as the news director, while anchoring the 6 p.m. newscast each weeknight with veteran co-anchor Aundrea Self.
He grew up in Columbus and Millport, Alabama, and most of his family call the Magnolia State home. It's that understanding of the region's people, culture, and businesses that have influenced his successful career.
His work helped convince the Legislature to ban the use and possession of Salvia in the state. He was on the scene for days after deadly tornadoes raked across North Mississippi and West Alabama on April 27, 2011, and has followed the rebuilding for years since then.
He was there when former President Barack Obama brought his presidential campaign to Columbus in 2008. He witnessed an inmate execution at the Mississippi State Penitentiary at Parchment.
He offered unique insight on the debate over Mississippi's open and concealed carry gun laws, described the pain felt by a family of a slain veteran Jackson Police detective, and told all sides of officer-involved shootings across the region.
He's become a mainstay at the Neshoba County Fair and has even shared the lighter side of the fun of the Mississippi State Fair. Joey even flew with the world-famous United States Air Force Thunderbirds.
Joey's work has won numerous awards from the Mississippi Associated Press Broadcasters Association and community groups.
And when not at work, he usually can be found outdoors or watching his favorite sports teams (Mississippi State, Chicago Cubs, New Orleans Saints). But most of all, he's happy to call the Golden Triangle home with his wife Sarah and their daughter, Bella.
If you have a story idea or just want to say hello feel free to send Joey an email at joeybarnes@wcbi.com or follow him on Twitter and Facebook.