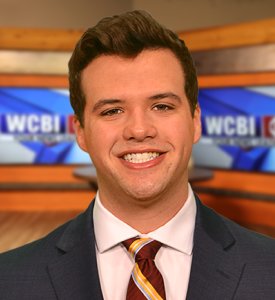 Kam Dyer
Anchor/Reporter
WCBI Sports Team
Kam Dyer joined the WCBI sports team in March of 2022 after graduating from Arizona State University with a bachelor's degree in sports journalism from the Walter Cronkite School of Journalism.
In his time at Arizona State, Kam spent time as a beat writer for the State Press student newspaper, hosted various sports radio shows for Blaze radio and was a sports anchor for Cronkite News on Arizona PBS.
Kam grew up in Round Rock, Texas and has always dreamed of being a sports broadcaster since a very young age. Some of his earliest memories are of attending Baylor football and women's basketball games with his family.
Sports have always been a big part of Kam's life and he is thrilled to cover all of the great sports that the Golden Triangle has to offer.
When he's not at the station you can probably find Kam watching the newest show on Disney Plus and trying to become a better chef.
If you would like to reach out to Kam for a story or just want to chat about sports or all things Disney, follow him on Twitter (@thekamdyer) or email him at kdyer@wcbi.com.