Chris Bolton
Anchor/Reporter - WCBI Sports
Email Chris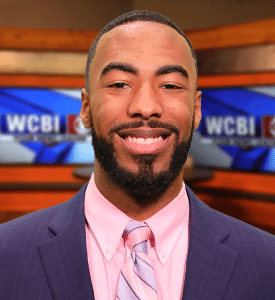 Chris Bolton joined the WCBI Sports Team in January 2019. He's been a part of WCBI since August 2016 after graduating from Mississippi State University that May with a bachelor's degree in communications. Hail State!
At MSU, Chris worked as the sports reporter for the university's news television show Take 30. As a reporter, Chris covered the 2015 Mississippi State football team and joined them in Charlotte, North Carolina, as they went on to win the 2015 Belk Bowl.
After graduating, Chris joined WCBI as a part-time production assistant working the morning shows. Over the years, Chris has worked his way up in the station going to news videographer to weekend producer to settling into his passion of sports reporting.
Chris was born and raised in Hattiesburg, Mississippi. He played basketball for Oak Grove High School and carries that love for the game into his work. If he's not at the station, you can find him in a gym hooping or playing NBA 2K on the PlayStation.
If you want to connect with Chris or if you have a cool story idea, email him at cbolton@wcbi.com.