Stephen Pimpo
Reporter
Email Stephen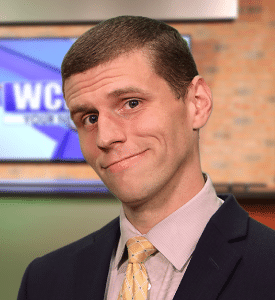 Stephen Pimpo is a Reporter at WCBI News who joined the team in September 2020.
Stephen comes to the Golden Triangle from Maryland, where he grew up in the state capital of Annapolis. He graduated from the Philip Merrill College of Journalism at the University of Maryland in 2015, earning a B.A. in Broadcast Journalism.
After college, Stephen worked as a general assignment reporter for the Capital Gazette newspaper in Annapolis, covering crime, politics and other local events. Stephen then spent several years as a digital journalist for WJLA-ABC7 in Washington DC, where he produce daily breaking news and creative web content as well as ran the station's social media accounts.
Stephen made his on-air debut with KLEW-TV in Lewiston, Idaho in 2018. From 2018-2020, Stephen spent equal time as one of KLEW's leading news reporters as well as the station's sports director.
Stephen has covered the NFL, mass shootings, murder trials and had his work featured on ESPN and Good Morning America.
If you have a story you'd like to share, follow him on Twitter (@spimpojr), message him on Facebook (Stephen Pimpo) or email him at stephenpimpo@wcbi.com.