Tara Wheeler
Anchor/WCBI Midday
Email Tara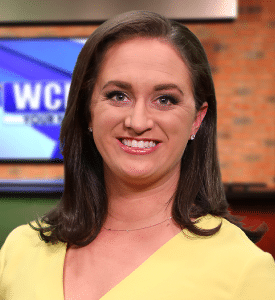 Tara Wheeler is excited for the opportunity to join the WCBI Sunrise team!
She is stationed with her family on Columbus Air Force Base as her husband trains to become a pilot (if you look to the skies, it may be her husband, Tyler, flying overhead!). In the military, you "Bloom Where You're Planted" and she is embracing Columbus as her home!
Tara is an award-winning broadcast journalist with more than a decade of experience, having previously worked as the lead evening anchor for CBS19 in Charlottesville, Virginia and on the WFXR morning news in Roanoke, VA. UVA sports fans may also recognize Tara as the Hoo-Vision host for home football and men's basketball games.
A graduate of Penn State University with a degree in journalism, Tara was also the starting goalie for the Penn State women's ice hockey team. Half of her education was paid for through the Air Force ROTC program. She served in the Air Force reserves until 2006. The other half of her education was paid for by the Miss America Organization.
Tara was crowned Miss Virginia 2008, and was a Quality of Life finalist at the 2009 Miss America pageant. She believes that "Beauty is as Beauty Does" and used her title to raise more than $50,000 for pediatric cancer research when she partnered with the St. Baldrick's Foundation and shaved her head BALD in solidarity with the children fighting the disease.
Her two children (5-year-old son, Wheeler, and one-year old daughter, Sunny) keep her plenty busy, but in her free time, Tara enjoys volunteering in the community and is also a dance fitness instructor. Tara loves getting out and about with her family to enjoy all that the Columbus area has to offer. If you see them around town, be sure to say "Hi!"
If you would like to connect with Tara, email her at twheeler@wcbi.com.