Vanessa Alonso
WCBI Meteorologist
Email Vanessa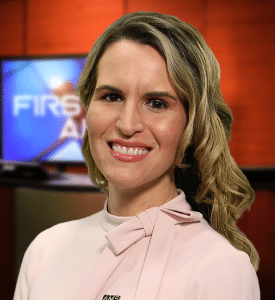 Meteorology has been a part of me since I was only seven years old when Category 5 Hurricane Andrew devastated my hometown of Miami, FL in August 1992. That experience with Mother Nature gave me the drive and inspiration to be where I am today. I'm currently the Sunrise & Midday Meteorologist at WCBI-TV as of December 2019. During my 11 years in the business, I've done extensive Winter Weather, Severe Weather and Tornado Warning Coverage.
I am an active member of the American Meteorological Society, where I'm currently serving a three-year term on the AMS Board of Broadcast Meteorology. I also serve on the AMS Station Scientist Committee and am a Broadcast Ambassador to the AMS Committee for Hispanic and Latinx Advancement (CHALA). I'm also a member of the National Weather Association, where I'm currently working on attaining my NWA Broadcast Seal of Approval.
I graduated from the University of Miami in 2008 as the first student to receive a Bachelor of Science in Communication in both Meteorology and Broadcast Journalism. I was very active during my five years there by being involved in various clubs and organizations across campus including being a cheerleader, dancer and color guard during football season. I was a SKYWARN storm spotter for the National Weather Service in Miami. I interned at the weather departments of CNN in Atlanta, WTVJ NBC 6, WSVN Channel 7 FOX and WFOR CBS 4 in Miami. I was even highly involved as a writer, reporter, and weather forecaster for UMTV's award winning show "Newsvision."
In 2009, I left The Sunshine State and hurricanes behind and headed out to the Show-Me State of Missouri. I lived first in Joplin working for a short time at KOAM-TV as their Weekend Meteorologist. There, I got the chance to experience all four seasons for the first time ever, from the snowy & cold winters to severe weather & tornadoes in spring to the hot & dry summers to the cool & changing colors in the fall and the sunny skies in between. In April 2011, KTVO-TV and Kirksville called my name and I went there to work as their Bilingual Meteorologist and Reporter. Five weeks after I moved from Joplin, the EF-5 tornado hit the city on May 22. I covered extensively the aftermath and recovery efforts. I'm so proud of how they have rebuilt and how far they have come. In the nearly six years I was at KTVO, I did extensive weather coverage in both English and Spanish. I was also involved in the community and did heartwarming stories to help show how the greatness of the area was from agriculture to well-known events and festivals.
In February 2017, I crossed over to the Sunflower State to Topeka, Kansas at KSNT-TV where I worked as their Weekend Morning Meteorologist and Multimedia Journalist. During my 10 months there, I got the chance to storm chase during severe weather season in the station's own "Storm Tracker" Hummer and cover breaking news. In December 2017, I headed back to Missouri to be the Weekday Morning Meteorologist & Feature Reporter at KQ2 (KQTV) in St. Joseph. During my two years there, I was awarded the American Meteorological Society's Certified Broadcast Meteorologist (AMS CBM) Seal in February 2019, covered the Kansas City Chiefs on their two best seasons ever and met amazing people.
When I'm not following the weather, I like to stay active by traveling, dancing, exercising, cooking, baking, movies, reading, shopping, hanging out with my family & friends and watching my hometown teams from the Miami Hurricanes to the Miami Dolphins, Miami Heat and Miami Marlins. I've also become a big fan of the Kansas City Chiefs, the Kansas City Royals and the University of Kansas Jayhawks. I am also a huge Disney fan and I try to visit Walt Disney World any chance I can get.
I just love the world of weather. I can't wait to see where it will take me next.
If you want to connect with Vanessa, make sure to follow her on Twitter (@VAlonsoWCBI), Facebook (Vanessa Alonso WCBI) and Instagram (@meteorologistvanessaalonso). Feel free to email her at valonso@wcbi.com.