LOCAL BUSINESS MESSAGE BOARD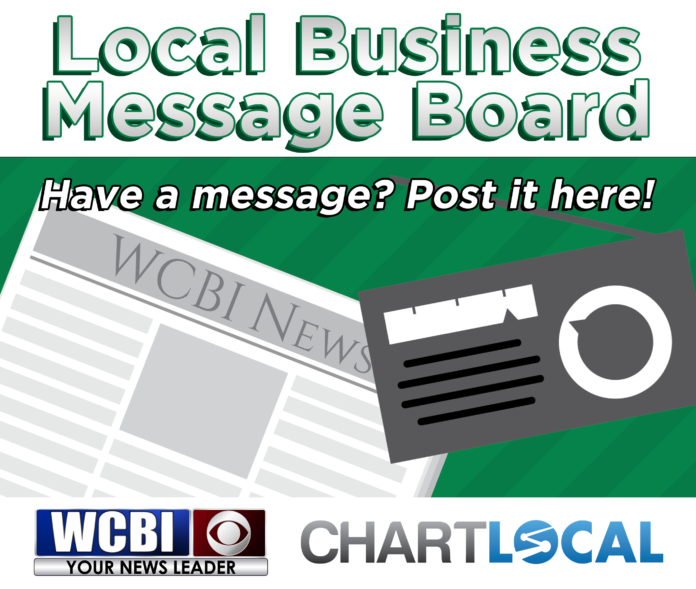 DO YOU NEED TO LET THE COMMUNITY KNOW ABOUT A CHANGE IN YOUR BUSINESS HOURS OR PRACTICES DURING THIS TIME OF QUARANTINE? FILL OUT OUR SURVEY AND YOU WILL RECEIVE A FREE MESSAGE ADVERTISEMENT ON OUR BEHALF!  SUBMIT MESSAGE
---
"We are open M-F from 7:30AM-3:30PM or up to 5:30PM if needed. We are practicing guidelines set forth by the CDC and MS Department of Health. Our trained staff are using mask/gloves in caring for our vulnerable clients(elderly and disabled) at the Center and in their homes. Stay well, strong, and Healthy!"
---
"Monday through Friday from 10AM-2PM.
Saturday from 10AM-12PM.
Drive thru only."
---
"We are open to repair shoes, boots, etc. Our hours are based on need. So please call the owner and let him know when you need to stop by.
You can reach the owner at 662-295-1334. His wife, Annette, at 662-687-0426. The shop number is 662-205-4720. If no one answers this number, please leave a message including your phone number and we will return your call."
---
"Monday through Saturday from 7AM-5PM. Closed on Sunday."
---
"Business hours are 8-5:30 Monday-Friday and Saturday 8-12. At this time we are not making house calls but you can bring your appliance to us for repair. Thank you!"
---
"Due to Covid-19 New Hours are Monday through Friday 11:00am to 3:00pm. The doors will not be open for Walk-in but appointments only. 662-570-4730"
---
"We are open 6AM – 2PM Monday-Friday. Pick up only."
---
"Thursday-Saturday
4:30PM – 9PM"
---
"Incognito Investigations would like to express prayers during this times of challenge. please contact us for all of your investigative needs. We specialize in workman's comp, theft/loss, security solutions and domestic."
---
"We are open and accepting appointments for both interior and exterior work."
---
BREAUX BRIDGE
COLUMBUS, MS  –  662.368.1144
"Limited menu, but not limited flavor ?? Get it spiced just right to take home! ? Call (662) 368-1144 or order online!
Monday-Friday 11am-2pm and 4:30pm-8pm
Saturday 11am-8pm
Sunday 12pm-8pm"
---
"With one phone call to any of the 10 Family Pharmacy locations you can have all of your prescription needs taken care of quickly and efficiently.
Our drive thru options are very well staffed to serve you quickly and keep you from having to expose yourself to potential illness.
We also offer FREE delivery."
---
"If you need to see a doctor for any reason, sick or well, call any of our four Columbus locations to be screened for an appointment. We will help you determine which option will care for you best:
TeleHealth  –  VideoHealth  –  Curbside  –  In-Office
Simply call the location of your choice and the receptionist will walk you through the next steps.
Allegro Plaza: 662-570-4770
Allegro East: 662-329-3808
Allegro New Hope: 662-329-1488
Allegro North: 662-328-9702″
---
"Closed until further notice…
This too shall pass…"
---
"Dr. Castleberry is treating patients either in the office or telemedicine visits.
We are doing our part by taking all precautionary steps and wearing our personal protective equipment.
Monday-Friday: 8AM – 5PM"
---
"Magical Moments Vacations by Diana is open and accepting requests for reservations:
Disney Destinations for vacations beginning June 1
Universal Studios for vacations beginning June 1
Cruises for fall 2020, all year 2021, and through April 2022
Caribbean and Mexico All-Inclusive resorts for vacations beginning July 1, 2020."
---
"You heard it right! We are opening next Tuesday 4/21 through Friday 4/24 for donations ONLY.
We'll be taking extra precautions with your donations as well as following other measures mentioned by Mayor Robert smith such as wearing masks.
Gather up those Spring cleaning boxes and bring 'em our way next week!
We've also got some pretty exciting news for you guys about a change at the store! We will be changing out store hours to Thursday-Friday 9AM – 4PM and Saturday 10AM – 3PM.
Watch our Facebook for updates on when these go into effect and you can start shopping!"
---
"We are currently seeing patients and welcoming walk-ins during normal business hours with urgent orthopedic needs, including sprains, strains, and other orthopedic-related injuries.
We are also providing visits and consultations via telemedicine for those who would rather stay at home.
Columbus Orthopaedic Physical Therapy
Because physical therapy rehabilitation is considered "essential", our facilities will remain open for our patients' recovery process under normal business hours: Monday-Friday 8AM – 5PM.
Columbus Orthopaedic's Outpatient Center
If you have an urgent surgical need, please contact our team at the Outpatient Center, (662) 328-7123. Our staff will direct you to a member of our medical team to create a care plan for you."
---
"Closed until further notice"
---
"Normal business hours:
Monday-Friday 8:30AM – 6:30PM
Saturday 8AM – 1PM
We are asking all to our patients to use our drive thru."
---
"We are open – temporary business hours
Monday-Friday 7AM – 3PM
Back sales counter only
Please call 328-5151 and we can have your materials ready for you.
Thanks! Shop local!"
---
"Due to Coronavirus pandemic the tennis courts will be closer until further notice as mandated by the city's ordinance.
Tutoring with Ms. Johnson will not be available at the Public Library until further notice, however electronic methods are still available.
Parents, please contact Ms. Johnson. Any MUW, MSU, or academically inclined students available to tutoring, please contact Ms. Mattix via our email or the number provided her and on our website at goldentriangletennis.net"
---
"Business Hours during COVID 19 Shelter in Place.
Tuesday-Friday 10AM – 3PM
If you need to set an appointment please call 662-251-5627"
---
FUN WORLD
TUPELO, MS  –  662.844.3866
"Fun World will have curbside pickup Monday-Saturday just call us at 662-844-3866"
---
"Closed until June"
---
"We are seeing all:
Well Visits 7AM – 12PM
Sick Car Visits 12PM – Close
Video Visits are also an option 12PM – 7PM daily."
---
"The Purple Elephant storefront is closed to the public.
However on Tuesdays, Thursdays and Saturdays we will have you your own personal shopper in the store to help you with all your gift giving needs!
We will send you pictures and take your payment over the phone!! Will have gift wrapped for you to pick up curbside!
Just let us know how we can help!"
---
"Business hours:
Monday-Friday 8AM – 5:30PM
Saturday 8AM – 12PM
At this time we are not making house calls but you can bring your appliance to us for repair. Thank you!"
---
"Open 24 hours
Follow us on Facebook or contact us at tblinformation@gmail.com"
---
GARY'S PAWN AND GUN
COLUMBUS & WEST POINT, MS  –  
662.327.4279
"We are OPEN every day except Wednesday and Sunday from 9:30AM – 6PM in Columbus and West Point.
We are following cleaning and social distancing guidelines including limiting the number of people in the store at one time and recommending customers maintain a 6-ft distance at all times.
Thank you for your support and help to keep our community safe."
---
"Home improvement you can trust!
If awnings, gutters, carports, screened porches, or patio covers are on your to-do list—We're here to help.
Give us a call at 662-329-2525 or visit qualityaluminumms.com for a full list of services!"
---
KRISPY KREME
COLUMBUS, MS  –  
662.848.0044
"We're here to make your day a little sweeter ?
Delivery or drive-thru, rain or shine! Open daily from 6AM -8PM"
---
ANGIE P DESIGNS
AMORY, MS  –  662.570.8535
"Open for online ordering!"
---
"We continue to do business over the phone and email. We are able to process payments, quotes and all of your other insurance needs without you having to come to the office."
---
"We are staying open and operating with our normal business hours.
The hours are as follows:
Mon-Fri: 10AM – 6PM
Saturday: 10AM – 3PM
Thank you for the support of your local businesses and let us all continue to work together and help each."
---
BIG BUNS & MORE
STARKVILLE, MS  –  662.268.8218
"Open: Tuesday-Saturday for carry out
Delivery Services offered through Lazy Guys"
---
"Open for normal hours of business for all truck & trailer repairs, available 24/7 for roadside breakdowns and towing services."
---
"We are open. Sales, Service, Body Shop, and parts. We service all makes and models. Please contact us with any of your vehicle needs. We are doing our part practicing social distancing and can service your vehicle without touch. We would love to help in any way. Thank you all for the continued support."
---
"Specialty Orthopedic Group's Tupelo Clinic is open Monday through Friday from 8AM to 3PM. SOG's Tupelo clinic is accepting walk-in patients with urgent orthopedic needs, including sprains, strains, and other orthopedic-related injuries. SOG is also using virtual health telemedicine, either by FaceTime or phone, which allows our physicians and nurse practitioners to virtually serve our patients without an initial in-person visit. 24-hour scheduling is available at 662-767-4200 and www.sogms.com."
SPECIALTY ORTHOPEDIC GROUP PHYSICAL THERAPY
"Specialty Orthopedic Group Physical Therapy is currently operating under normal business hours, as physical therapy and rehabilitation are deemed "essential" services. It is imperative to post-op patients to continue physical therapy in order to achieve the best possible outcomes. Questions? Call SOG PT at 662-432-1523."
SPECIALTY ORTHOPEDIC GROUP AMBULATORY SURGERY CENTER
"Effective Friday, March 20, as advised by the Mississippi Department of Health, Specialty Orthopedic Group's ambulatory surgery center is open for urgent orthopedic-related cases only."
---
"We are open normal business hours. We are strictly curb-side and tele-medicine services."
---
"Apply online at www.marniegayle-RENASANT.com. NMLS #1082500"
---
"We are still serving our local community through curbside pickup, you can go on our Facebook and look at menu pinned at the top, call and place the order, and we will bring it out to you when you pull up or give us a call that you here! (662) 327-2123 We know these are difficult times for you and loved ones. We are doing following all procedures set forth by the CDC guidelines and additional steps to make sure we keep your loved ones safe. We are all in this together!"
---
"Staying open."
---
REDEFINING HEALTH, LLC.
COLUMBUS, MS  –  662.574.4572
"Will provide additional hours to accommodate smaller class sizes per the American Heart Association guidelines. If a time is not listed that works with your schedule, if you are a healthcare provider, I will make special arrangements to get you BLS, ACLS, or PALS certified."
---
"The Pedicure Lounge will reopen June 8, 2020. Bookings can still be made over the phone, through The Pedicure Lounge personal Facebook page or through Booksy Booking app. Please call 662-506-3761 to book over the phone if you have any issues booking. Thank you."
---
"Open Daily: 1PM through 4PM"
---
"Transitioned to curbside service. Please call 662-327-3500, and we will take your order and deliver your material outside."
---
"CLINIC HOURS:
MONDAY THROUGH THURSDAY 8AM – 3PM
FRIDAY CLOSED
PHONE CALL AVAILABILITY: MONDAY THROUGH FRIDAY FROM 8AM – 5PM"
---
"The golf course is still operating as usual along with our driving range. Social distancing is easy on a golf course. We will wait until the quarantine has been lifted to open up the Hawaiian Shaved Ice Shop inside the clubhouse. We are open Tuesday – Saturday 8AM to dark. Please call for a tee time if you plan to play after 4PM. Clubhouse 803 383-0201 or Gene 803 383-2225 if no answer."
---
RED'S WOLF TOWING SERVICES & HORSE RESCUE
DETROIT, AL  –  205.712.9430
"24 Hour Service Available"
---
"We are OPEN for the public our regular hours while following CDC guidelines. Mon,Tues,Thurs,Fri: 9AM – 5PM
Wednesday and Saturday: 9AM – 2PM
We are still taking delivery orders as well as phone orders for curbside pickup."
---
"Closed due to COVID-19 until further notice."
---
"Open for business."
---
"We are OPEN to for the public during our regular business hours while following CDC guidelines.
Mon-Fri: 10AM – 5:30PM
Saturday: 10AM – 4PM
We are also doing phone orders for curbside pickup at this time as well."
---
"Providing TeleMental Services in the wake of COVID-19
Waiving Co-Pay's through April 30, 2020"
---
A CUT ABOVE
COLUMBUS, MS  –  662.386.8340
"Closed until further notice."
---
"Procedures at our facility on 2089 Southridge Drive in Tupelo are postponed in order to reduce the risk of coronavirus! If you need an office visit please call our office at 662-407-0801 as our office visits are being conducted via telemedicine only to do our part to reduce the risk of spreading coronavirus."
---
"Open for business. Delivery available."
---
"New hours:
Monday thru Friday: 11AM – 3PM
Closed Saturday and Sunday"
---
RUBY TUESDAY
STARKVILLE, MS  –  662.615.4245
"Open Daily: 12PM – 8PM
25% off all TO-GO orders (not in conjunction with other deals)
$5 Cheeseburger, Turkey Burger, and Crispy or Grill Chicken sandwich
Delivery with Doordash or Postmates"
---
ALARMPRO
COLUMBUS, MS  –  662.352.8005
"Our front office is closed to the public, but we are still taking calls and estimate requests. Please call 662-352-8005 or 662-352-8059 and leave a message. We will promptly return your call. You can also fill out our online contact form at www.alarmproms.com/contact.
WE ARE HERE TO SERVE YOU!
Thanks, AlarmPro"
---
"Hours:
Thursday-Friday: 10AM – 6PM
Saturday: 10AM – 4PM
Deliveries and Curbside Pickup"
---
"Our shop will be closed this week however we will be doing Mobil service calls in our truck Monday through Friday. Emergency unlock calls only on Saturday & Sunday"
---
"We are providing telehealth services via phone calls and Zoom meetings. We are also accepting new clients through telehealth who reside in MS. "
---