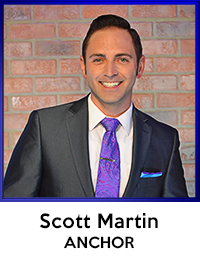 WCBI NEWS AT 10PM | CW4 NEWS AT 9PM
Scott Martin joined the WCBI News team in July of 2017. With two years in the Golden Triangle under his belt, he's proud to call himself a Bulldog fan.
"Some people call me a band wagon fan which I might have agreed with you at first. Now, I truly can't help myself but get excited for each Bulldog season. Someone bought my first cowbell, so, it's safe to say I RING TRUE! #hailstate.
Scott moved to Mississippi from North Texas. He's an Oklahoma native and alum of the University of Central Oklahoma.
He's a nationally recognized journalist by the Broadcasters Education Association after being awarded a top collegiate anchor in 2015.
During his career he's covered tornado outbreaks, the Oklahoma University fraternity scandal that made headlines, and President Donald Trump's visit to the Magnolia State.
In his free time you're most likely to see Scott at the Columbus Riverwalk, eating out somewhere (he's a fan of Two Brother's cheese fries), or at the beach.
If you have a news tip or would like to connect with Scott find him on here on social media.
In his free time, Scott enjoys anything outdoors and food. If you have any recommendations shoot him and email at smartin@wcbi.com
If you want to connect with Scott, make sure to follow him on Twitter and Facebook.