Creative legacy lives on in Langston Hughes' home
Our series, A More Perfect Union, aims to show that what unites us as Americans is far greater than what divides us. In this installment during National Poetry Month, we introduce you to a woman who is keeping Langston Hughes' legacy alive.
---
Poet, playwright and novelist Langston Hughes was one of the most influential writers of the 20th century. The acclaimed writer and leader of the Harlem Renaissance spread culture and creativity throughout Harlem, New York, and the nation beyond.
Renee Watson was first introduced to Hughes' works in elementary school.
"I saw myself and my neighborhood and the people in my family in the stanzas of his poems. Like, people — I was, like, 'Oh, they sound like my neighbors,' you know? It was like the first time when I really saw my reflection in a piece of writing," Watson told CBS News correspondent Don Dahler.
That inspiration would lead her to a successful literary career of her own. The Portland, Oregon, native is a bestselling and award-winning children's author. After moving to New York in 2005, Watson was excited to visit the home of Hughes — one of her literary heroes.
"I just was, like, 'I have to get to Harlem. I have to go to all the spots that, you know, are mentioned in his poems, and — and just walk the streets where all these amazing poets and artists and musicians, you know, lived.' And when I came I was — I was disappointed. I was, like, 'Oh, wait. You can't go inside. This isn't a museum.' I really thought it was going to be a space for the people," Watson said. "And I really wanted to do something about that."
In 2016, Watson tracked down the current owner of the home to share her vision of turning it into a creative space for the community. She launched a crowdfunding campaign using the hashtag #LangstonsLegacy to rally support. In just 30 days, she raised enough to lease the home and open its doors to the public for the first time in years.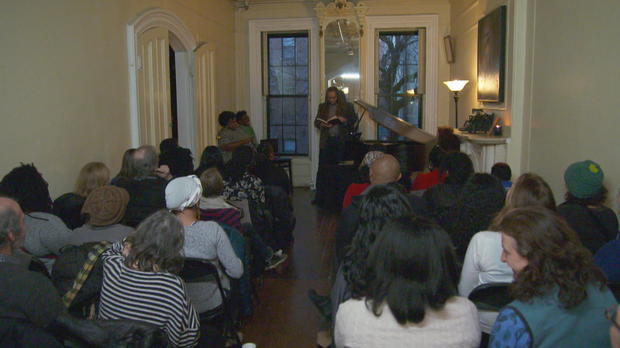 CBS News
Watson launched, "I, Too, Arts collective" an organization named after one of Hughes' most famous poems, offering a range of creative arts programs for all ages, like a weekly African drumming class or dreamweavers where children learn about Hughes.

"Today we learned he was a writer," one young girl said.
"And an activist," another said.
Turns out Watson and Hughes share a passion for inspiring children and community empowerment. Those passions come to life here.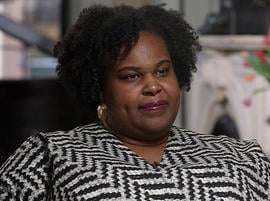 CBS News
"The stories that I hear about who he was as the people's poet, like, in this space — the young people on the block knew him by name, and they would come sit with him on the stoop," Watson said. "And he planted a garden in the front yard, and — with students, with young people in the area. So those are the things that kind of drew me to him," she said.
"This was a person who didn't just write about Harlem, but loved Harlem."
It's never lost on her that she is in his home, Watson said.
"There is a presence here. There is something about looking at his typewriter that he actually used, and to see that. And sometimes I just stand and stare at it," she said.
Watson said she hopes Hughes would be happy to know about the collective in his home.
"There's stories about Langston sitting in the parlor room with friends, and just talking politics, and talking about art, and we do that here. And so I hope that, yeah, if he knew it was going on, I think he would be proud. I feel like he's cheering us on," Watson said.
"I, Too, Arts collective" is still raising funds to purchase the home to continue the work it's doing here. As for Watson, her New York Times bestselling book, "Piecing Me Together," recently won the Coretta Scott King Award and the Newbery Honor for most outstanding contribution to children's literature.