CBS News poll: Approval of Trump's handling of North Korea increases
By Jennifer De Pinto, Fred Backus, Kabir Khanna and Anthony Salvanto
Americans increasingly approve of President Trump's handling of the North Korea situation, following the announcement of a planned meeting with Kim Jong Un. Republicans in particular have become more confident that the situation will be resolved without conflict.
Overall, most Americans — 64 percent — still express unease about the situation.
But Republicans show a dramatic 19-point drop in those who feel uneasy; fewer independents are also less uneasy — by 10 points — though most — 59 percent — still feel uneasy about the possibility of conflict with North Korea.
The president's approval rating on handling North Korea has risen to 42 percent from where it was in January (34 percent), and the number that now disapprove has dropped.
The uptick in approval comes mostly from independents and Republicans. Interviews for this measure were conducted entirely following the announcement of the meeting.
The president's overall job approval rating remains virtually unchanged, now at 38 percent, compared with 37 percent in January. As has been the case since the start of his term, a large majority of Republicans continue to approve of the job he's doing, while most Democrats disapprove.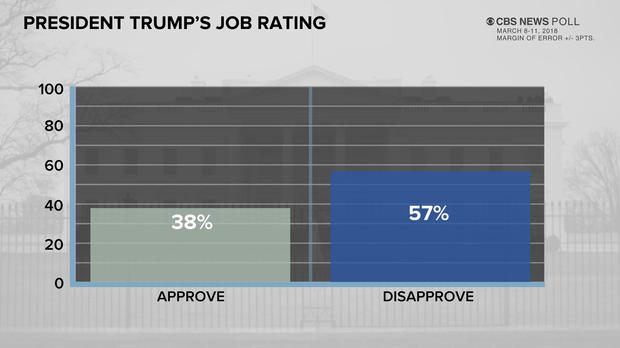 On particular issues, President Trump's approval rating on North Korea is higher, at 42 percent, than those he gets on gun policy (37 percent) and his handling of the Russia investigations (31 percent). The economy (46 percent) continues to be the president's relatively strongest area.
Americans overall are split on whether or not the President's policies have helped the middle class in particular.
---
This poll was conducted by telephone March 8-11, 2018 among a random sample of 1,223 adults nationwide. Data collection was conducted on behalf of CBS News by SSRS of Glen Mills, PA. Phone numbers were dialed from samples of both standard land-line and cell phones.
The poll employed a random digit dial methodology. For the landline sample, a respondent was randomly selected from all adults in the household. For the cell sample, interviews were conducted with the person who answered the phone.
Interviews were conducted in English and Spanish using live interviewers. The data have been weighted to reflect U.S. Census figures on demographic variables.
The error due to sampling for results based on the entire sample could be plus or minus three percentage points. The error for subgroups may be higher and is available by request. The margin of error includes the effects of standard weighting procedures which enlarge sampling error slightly.
This poll release conforms to the Standards of Disclosure of the National Council on Public Polls.
© 2018 CBS Interactive Inc. All Rights Reserved.