Photographer Matt Black on documenting poverty
Michelle Miller is our guide through a gallery of images of everyday Americans, including one photographer's portfolio of poverty:
When photographer Matt Black looks out at America, he often doesn't like what he sees: "It bothers me, yes, because I feel, like, clichés about lifting yourself up by the bootstraps? Well, what happens when you don't have any bootstraps to begin with, right?"
For the last four years Black has traveled the country, driving nearly 90,000 miles through 46 states, photographing marginalized communities. He calls his project "The Geography of Poverty."
CBS News
And what has he found? "I found that there's big stretches of the country that are not, you know, part of these stories that we like to tell ourselves about what America is, the land of opportunity, the "land of milk and honey." They are directly contradicted by the lived experiences of so many people across the country."
In America, some 40 million people live in poverty. That means an individual living on $12,228 a year, or a family of four living on $24,563.
"This is urban. This is industrial. This is all races, all ethnicities, all cultures, all histories, all geographies throughout," Black said. "Together, there's a common theme of 'We've been left out.'"
Miller asked, "So, how do you capture all of that in a picture?"
"Well, I'm trying to focus very much on the lived experience of people, not poverty in an objectified sense. So, it can be very small things. It could be, you know, the way a crack in the sidewalk appears. It's about creating this intimate kind of connection with that, to the looker."
Images like a man searching for scrap metal in Flint, Michigan … or people doing laundry in Clay County, Georgia.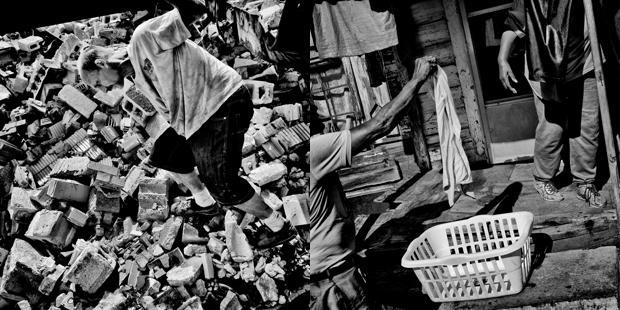 Matt Black
Looking at Black's images, you might be reminded of Great Depression-era photographers like Walker Evans or Ben Shahn, with a similar view of an America often overlooked.
It's a disdain that Black says is built in: "You know, don't go there; don't go this side of town, or don't go to that part of the state. You know, 'That's not part of America,' right?"
"What happens when it's not part of America?" asked Miller.
"Well, then, at what point do we still have a common country?"

For more info:

Story produced by Sara Kugel.