At Ample Hills Creamery, every flavor tells a story
When a young couple opened a little ice cream shop in Brooklyn, New York, seven years ago it was an immediate hit with local residents and just the beginning of their journey. Ample Hills Creamery would go on to develop a cult following for their inventive flavors, each with a creative back-story. "CBS This Morning: Saturday" co-host Michelle Miller met the husband and wife duo who started it all and even got a tour of their brand new factory – the biggest ice cream factory in New York.
---
To Jackie Cuscuna, there's no better taste of American culture than a scoop of ice cream – and she should know. She's the chief culture officer of the ice cream brand Ample Hills Creamery, which she co-founded with her husband Brian Smith. The duo's successful ice cream company is now celebrating seven years with a 12th store coming soon to Los Angeles.
"I think that the thing for us was almost more than ice cream, it was the idea of creating a sense of community, a place," Smith said. Added Cuscuna, "It's really important that we're creating spaces where people feel welcome, where all people feel welcome."
It all starts with a story, and each of their shops have their own unique favors.
"We have a shop in Gowanus. Gowanus is the canal in that neighborhood and it's a toxic, fetid waste dump and so the flavor there is called 'It Came from Gowanus.' And it's a deep, dark chocolate ice cream with a lot of things lurking in it, including white chocolate pearls to represent the oysters that hopefully will be part of the clean-up in the canal. So, we go through a lot of effort to start with a story and then think about flavors that can support that story," Smith said.
"I think that what it does is it connects people to something more than milk, cream, sugar, and eggs," he added.
The brand has some famous supporters, including Jerry Greenfield of Ben and Jerry's ice cream and Walt Disney CEO Bob Iger. He loved Ample Hills so much he put a store right on the resort property in Orlando and even teamed up with the company to create a series of limited edition "Star Wars" flavors.
Smith said the best advice he received from those two was to "stay authentic" and "trust the instincts" that got them to where they are today.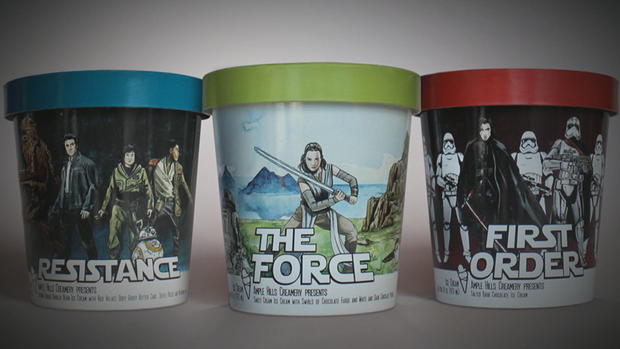 They've sold more than 40,000 special edition pints online, which has helped Ample Hills' own bottom line. Overall sales have grown from $600,000 from the start to $10 million. They've now got a state-of-the-art dairy and bakery plant in Brooklyn which also houses an interactive exhibit for kids where they can learn the process and create their very own flavor stories.
For now, the duo is hitting the road with their two children and embarking on a cross-country trip to share their ice cream dream before ending in California to open their new store.
"I think, for us, the real excitement in traveling across the country — is making ice cream across the country and telling different stories across the country through ice cream flavors," Smith said.
Next year, the company is teaming up with Marvel to make a trio of superhero ice cream that will be available to everyone online.
© 2018 CBS Interactive Inc. All Rights Reserved.