Bodycam video shows officer firing on dog, injuring girl
WICHITA, Kan. – The Sedgwick County District Attorney Thursday released body cam footage to the Wichita Eagle, showing a now-former Wichita police officer firing at family dog and injuring a child, reports CBS affiliate KWCH. Police said officer Dexter Betts was responding to a domestic dispute and suicidal call on Dec. 30, 2017, when he fired two shots at a dog he reportedly believed was charging at him.
According to the Wichita Eagle, the dog was a 35-to-40-pound English bull terrier.
Betts missed the dog, but a bullet fragment ricocheted and struck a girl sitting right behind the animal in the forehead, just above her right eye. The Eagle reports that fragments of the bullets also hit the dog.
Warning: Video contains graphic content
In the video, an officer can be heard saying, "We got a dog inside here, too," with a slight laugh, just a moment before Betts opens fire in the living room where, according to the Wichita Eagle, there were four children.
The girl who was struck was treated at a local hospital and released.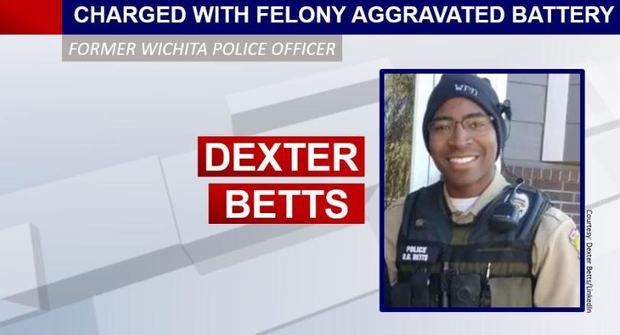 KWCH
The Wichita Police Department fired Betts on Jan. 25.
The former officer is charged with aggravated battery, a level 8 felony. Prosecutors say Betts acted unlawfully and recklessly causing bodily harm to the child.
Betts entered a not guilty plea in the case. His trial is set for Aug. 20.
© 2018 CBS Interactive Inc. All Rights Reserved.