Diplomat reveals details of Ukraine pressure campaign — live updates
---
Key facts and latest news
William Taylor, the top U.S. diplomat in Ukraine, testified before lawmakers behind closed doors for more than nine hours on Tuesday.
In a 15-page opening statement, Taylor testified that he grew increasingly alarmed over efforts by U.S. officials to pressure Ukraine into investigating President Trump's rivals.
Lawmakers who heard the closed-door testimony were stunned, audibly gasping at points.
On the July 25 call between Mr. Trump and Ukrainian President Volodymyr Zelensky, Mr. Trump urged Ukraine to investigate Joe Biden.
---
Washington— Democrats in the House said testimony from the top U.S. diplomat in Ukraine before the committees leading the impeachment probe provided a "damning" and "devastating" account of the Trump administration's efforts to pressure Ukraine to investigate the president's political rivals.
Trending News
William Taylor, the U.S. chargé d'affaires in Kiev, delivered a 15-page opening statement on Capitol Hill on Tuesday, alleging a direct link between a delay in U.S. military aid for Ukraine and the country's willingness to investigate President Trump's political foes.
Taylor testified for more than nine hours behind closed doors, and Democrats emerging from the hearing room expressed shock at his deposition. CBS News obtained a copy of his opening statement later in the day.
In the statement, Taylor described a concerted effort to use U.S. leverage to get Ukrainian President Volodymyr Zelensky to commit to opening investigations into debunked allegations of Ukrainian interference in the 2016 U.S. election, as well as the gas company Burisma, which had hired former Vice President Joe Biden's son in 2014.
Taylor said these efforts came via an "irregular, informal channel of U.S. policy-making" consisting of Rudy Giuliani, then-special envoy Kurt Volker, Energy Secretary Rick Perry and U.S. Ambassador to the E.U. Gordon Sondland.
Taylor said an official on the National Security Council told him about a call between Mr. Trump and Sondland in early September.
"President Trump did insist that President Zelenskyy go to a microphone and say he is opening investigations of Biden and 2016 election interference, and that President Zelenskyy should want to do this himself," Taylor wrote.
William Taylor departs the Capitol after testifying in the Democrats' impeachment investigation of President Trump on Tuesday, October 22, 2019. J. Scott Applewhite / AP
Representative Andy Levin, a Democrat from Michigan, said the U.S. diplomat's account was "very troubling."
"All I have to say is that in my 10 short months in Congress … this is my most disturbing day in Congress so far," Levin said.
"He was a meticulous note keeper, which made his testimony, I believe, all the more credible," said Congressman Gerry Connolly, a Democrat from Virginia. "That was his lifelong habit. When a phone conversation or meeting occurred, he would go to his notebook, record it or memorialize it."
At least one House Republican said the testimony did nothing to advance the Democratic theory that Mr. Trump withheld foreign aid or a meeting with the Ukrainian president in an attempt to get the country to investigate his political rival, former Vice President Joe Biden.
"I don't see anything that has advanced, the quid pro quo or the promise of anything with foreign aid," said Congressman Mark Meadows, Republican from North Carolina. "There's no one who can be intellectually honest and come out of that deposition and suggest otherwise."
---
Mike Pence blames Washington "swamp" for State officials stepping forward with testimony
Vice President Mike Pence suggested that some career diplomats who have chosen to ignore White House orders to not comply with House subpoenas as part of their ongoing impeachment probe show the depths of the so-called "swamp" in Washington.
"We have some extraordinary men and women in our diplomatic corps who know their work and who are strong and are out fighting for America's interest. But there's no question that when President Trump said we're going to drain the swamp, that an awful lot of the swamp has been caught up in the State Department bureaucracy, and we're just — we're just going to keep fighting it. And we're going to fight it with the truth," Pence told Fox News' Laura Ingraham Tuesday night.
Pence was adamant that the Trump administraiton was doing more than its predecessor was in providing Ukraine with the military aid they need to fend off Russian aggression, despite withholding necessary funds for that aid.
"The explanation made no sense"
Wednesday, 6:00 a.m.: In his statement, Taylor recounted conversations in September with Sondland and Volker, who both deployed similar anecdotes to explain the president's behavior.
"Ambassador Sondland tried to explain to me that President Trump is a businessman. When a businessman is about to sign a check to someone who owes him something, he said, the businessman asks that person to pay up before signing the check," Taylor said, adding that Volker said something similar several days later. "I argued to both that the explanation made no sense: the Ukrainians did not 'owe' President Trump anything, and holding up security assistance for domestic political gain was 'crazy.'"
The delay in aid was eventually lifted, and the money was released on September 11. Taylor received assurances from Zelensky's office that he would not give CNN an interview to announce the investigations.
He did not learn details of the president's July 25 phone call with Zelensky until September 25, when the White House released a summary of the call.
"Although this was the first time I had seen the details of President Trump's July 25 call with President Zelenskyy, in which he mentioned Vice President Biden, I had come to understand well before then that 'investigations' was a term that Ambassadors Volker and Sondland used to mean matters related to the 2016 elections, and to investigations of Burisma and the Bidens," Taylor wrote.
Read the full statement here.
White House denounces "triple hearsay"
Tuesday, 7 p.m.: White House press secretary Stephanie Grisham issued a statement blasting Taylor's testimony and House Democrats.
"President Trump has done nothing wrong — this is a coordinated smear campaign from far-left lawmakers and radical unelected bureaucrats waging war on the Constitution," the statement said. "There was no quid pro quo.
"Today was just more triple hearsay and selective leaks from the Democrats' politically-motivated, closed door, secretive hearings.
"Every day this nonsense continues more taxpayer time and money is wasted. President Trump is leading the way for the American people by delivering a safer, stronger, and more secure country – the do-nothing Democrats should consider doing the same."
​Graham to introduce resolution condemning "illegitimate" House practices
Tuesday, 5:08 p.m.: Republican Senator Lindsey Graham said Tuesday that he would introduce a resolution condemning "illegitimate" practices in the House impeachment inquiry, calling the process a "sham." Graham also said he would not comment on Taylor's testimony because he condemned the House's process.
"I will not comment on anything coming out of the House until they do it the right way. This is a sham. This is un-American," Graham said.
Earlier on Tuesday, Graham said that he agreed with Mr. Trump's characterization that the impeachment inquiry was a "lynching." — Grace Segers
---
​McConnell denies telling Trump his Ukraine call was "innocent"
Tuesday, 3:29 p.m.: McConnell denied telling Mr. Trump his July phone call with the Ukrainian president was "innocent," as the president indicated earlier this month.
Asked on Tuesday whether he believes the president has handled the U.S. relationship with Ukraine "perfectly," McConnell told CBS News he had not spoken to the president about the July 25 call.
When CBS News asked on Tuesday if the president was lying about the supposed interaction, McConnell replied, "You'd have to ask him. I don't recall any conversations with the president about that phone call." — Nancy Cordes
Read the full story here.
​Taylor's testimony was "damning" and elicited gasps from both parties
Tuesday, 1:32 p.m.: Taylor's opening statement was "lengthy," and his testimony was "very dramatic" and "detailed," according to members of the House committees conducting the impeachment inquiry. Another source said that Taylor's testimony was "damning."
A source who was in the room confirmed to CBS News that there were sighs and gasps — from both Democrats and Republicans — in reaction to Taylor's opening statement. — Rebecca Kaplan, Olivia Gazis and Nancy Cordes
---
White House spokesman defends Trump's "lynching" comment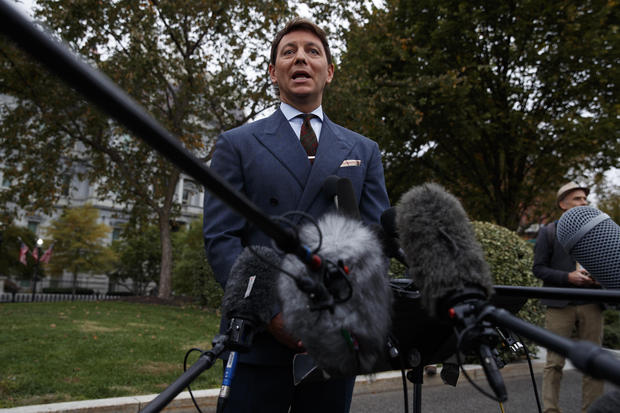 White House deputy press secretary Hogan Gidley speaks with reporters outside the White House on Tuesday, October 22, 2019, in Washington. Evan Vucci / AP
12:16 p.m.: Hogan Gidley, the principal deputy White House press secretary, claimed the president was not equating the impeachment inquiry with the brutal killing during Jim Crow.
"The president is not comparing what's happened to him with one of our darkest moments in American history," Gidley told reporters on the White House driveway. "What he is explaining clearly is the way he has been treated by the media since he announced for president."
"What the president has done for the African American community is something no president has ever done in my lifetime," Gidley claimed. — Stefan Becket
---