"Historic fire danger" forces evacuations in Oklahoma
WOODWARD, Okla. — Wildfires in northwestern Oklahoma have burned more than 120,000 acres and forced hundreds of people to evacuate their homes. Woodward County Emergency Management Director Matt Lehenbaur said Friday that the fire has destroyed several homes near Woodward, about 125 miles northeast of Oklahoma City.
He says no injuries have been reported.
The Oklahoma Department of Emergency Management reports one fire has burned more than 21,000 acres near the town of Leedey, about 40 miles south of Woodward.
The National Weather Service says dangerous fire weather conditions are expected in much of western Oklahoma and the Oklahoma Panhandle through Saturday, with low humidity and strong winds of 20-30 mph and gusts of up to 50 mph.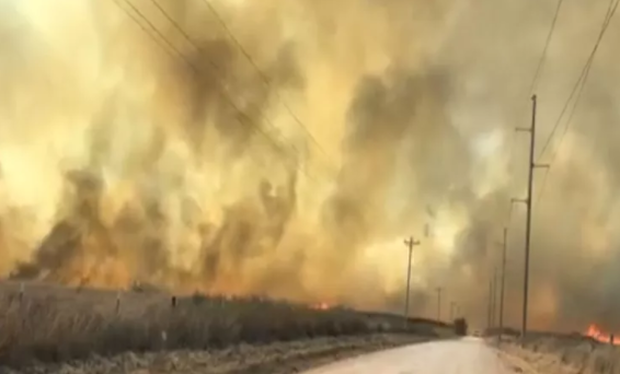 KOTV
CBS News affiliate KOTV reports the Oklahoma Forestry Service says an "historic fire danger" is spanning across most of the state. The public has been advised to avoid outdoor burning and grilling due to high temperatures, strong winds and low humidity. The governor has issued a burn ban for at least 16 counties.
Authorities are searching for a hunter who was reported missing after a wildfire sparked in Dewey County. A helicopter is assisting in the search, according to CBS News affiliate KWTV.
According to Woodward County Emergency Management officials, four wildfires are burning in the state.
Containment information was not immediately available.
© 2018 CBS Interactive Inc. All Rights Reserved. This material may not be published, broadcast, rewritten, or redistributed. The Associated Press contributed to this report.