Louisville man dies after his vehicle crashes into utility pole
LOUISVILLE, Miss. (WCBI) – A Louisville man is dead after a crash in Noxubee County.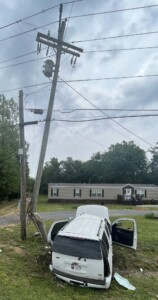 The accident happened Wednesday afternoon on Prairie Point Road.
Coroner R.L. Calhoun said 43-year-old Timothy Yarbrough died a short time later at Noxubee General Hospital in Macon.
Noxubee County deputies believe Yarbrough's SUV went off the road and hit a utility pole.
The crash remains under investigation.
For 24/7 news and updates, follow us on Facebook and Twitter