Mother Goose teaches children manners, etiquette during Valentine's party
COLUMBUS, Miss. (WCBI) – It was a lesson in manners and etiquette taught by Mother Goose during a Valentine's Party.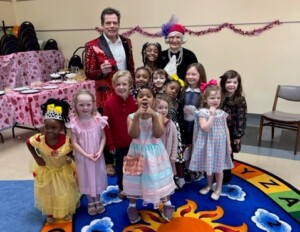 The party and lesson in etiquette took place during Mother Goose's weekly story hour at the Columbus and Lowndes County Public Library. WCBI's Allie Martin was a special guest of Mother Goose and he was able to help with the lessons.
Kids were taught proper table manners, there was also a Valentine Fashion Show and Valentine-themed snacks.
Nearly 40 kids and their parents were part of the Valentine's Party, and we will have more on Sunrise Saturday at 9 a.m. on WCBI News.
For 24/7 news and updates, follow us on Facebook and Twitter