Pennsylvania teen survives being sucked into storm drain
BETHEL PARK, Pa. — A suburban Pittsburgh teen was sucked into a drainage pipe during a powerful storm that dumped nearly 4 inches of rain, but he miraculously popped out the other end of it with only bumps and bruises. "My foot slipped and I flew in very quickly," 18-year-old Ben Smith told CBS Pittsburgh. "I knew I wouldn't be able to fight the water, it was moving fast and too strong."
CBS Pittsburgh reports that when flooded vehicles became stuck near his home, Smith jumped into action, trying to help the people trapped inside them, as well as clear some debris.
But, while trying to help, Smith said he couldn't see a submerged, flooded storm drain. That's when he was sucked in.
CBS Pittsburgh
"I just tried to keep my legs straight. I tucked my head down. I didn't want to break my neck or anything," Smith told CBS Pittsburgh. "I just kind of tucked in for the long haul."
At one point, by chance, Smith lifted his head where there was an air pocket. He gasped a breath, and then his perilous journey continued. Smith took a beating along the way.
"It was very cold," he said. "I felt my head hit a few times. My body was getting weak. I was just getting tired."
Weakening and exhausted, Smith had no choice but hold his breath and bounce along.
"Part of me just prayed and hoped that I see the end," Smith said.
About a minute later, he did. He shot out of the drain and into a retention yard, about 100 yards from where he was sucked in. Beat up, bruised and soaked, but Smith was still alive.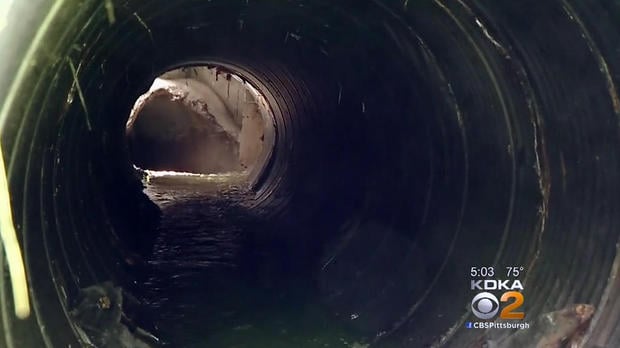 CBS Pittsburgh
His neighbors and friends immediately headed to the retention pond and creek. Stunned, they saw Smith walking away from the flooded pond.
"I came out of the pipe and I felt my foot kind of hit the air, I felt the cold air, and as I came up, I saw the lights from the backyard of my neighbor's house. Got up, started to walk towards the street, and a bunch of people were coming around, saying someone fell into the sewer, I was like, 'That was me,'" said Smith. "I hit my head about six times, nothing's broken, I just have some cuts, legs banged up and scratched a little bit; but overall, I feel lucky for what I went through."
Smith, a recent graduate of Bethel Park and an Eagle Scout, says he credits his survival to what he learned about swift water survival while in the Boy Scouts, as well as help from above.
"At the time, I was in shock, makes you believe there's a higher power," said Smith.
The powerful floodwaters in western Pennsylvania swept away one woman, killing her.
© 2018 CBS Interactive Inc. All Rights Reserved. This material may not be published, broadcast, rewritten, or redistributed. The Associated Press contributed to this report.