Read the handwritten notes in a court filing from parents separated from their children
Last Updated Jun 22, 2018 4:48 PM EDT
"Cada minuto que estoy separada de mis ninos es angustia" — "Each minute that I am separated from my children is anguish."
Those are the handwritten words of one mother, separated from her children at the southern border. She, along with two other parents who say they were separated from their children, are suing the Department of Homeland Security, Immigration and Customs Enforcement, U.S. Customs and Border Protection, the U.S. Department of Health and Human Services, and Office of Refugee Resettlement to be able gain information about their children and speak to them regularly.
One plaintiff, identified as "E.F.," wrote that she was separated from her child "one day after" she was arrested, and she's now being held in El Paso, Texas. She says that she has only spoken to her son three times for five minutes on each occasion, and she has not been able to get much information about his circumstances "because he is too young and upset to understand what is happening." E.F. wrote, "Every time we talk he only wants to know when he will see me again so it's hard for him to focus on anything else." And, she added, "Each time we have spoken, he only cries. In the brief moments where he can speak he tells me he is ok and that he misses me very much."
E.F. doesn't know where her son is, although she thinks he is in New York. She also says she has no idea who is caring for him. "I brought my son from Guatemala to protect him," E.F. wrote. "I didn't think that bringing him here would be so traumatic and so awful for him. I thought I would be able to care for my son and keep him safe and now I can't even see him. I just want to be reunited with my son so he can live a safe and happy life and so I can work to send him to school and give him a good life."
The application for a temporary restraining order filed in U.S. District Court for the District of Columbia and obtained by CBS News describes parents who long for basic information about their children. The plaintiffs, identified in the complaint as M.G.U., E.F., and A.F.P., entered the U.S. with their children, ages 2, 6, 9, 12 and 13.
"Plaintiffs naturally seek additional information about reunification and their children's well being, whereabouts, and care," the court document reads. "They also seek frequent and meaningful communication to reduce the anguish that they endure every minute they remain separated from their children, and that they are sure their children are also experiencing."
The document details the specific cases of each parent — including M.G.U, the mother of the two-year-old.
"As shown by her handwritten declaration, Plaintiff M.G.U. has only been able to speak with her three children for 10 minutes, two times each week," the court filing reads. "These communications are costly and unreliable. Of course her two-year-old is unable to provide reliable information about his circumstances, and staff provide only generation information to M.G.U., nothing specific about her children's well-being, which causes her anguish."
Included in the complaint are handwritten notes from the parents themselves, some in Spanish, and some in English.
Their handwritten stories are attached in the following complaint:
Screenshot of complaint / CBS News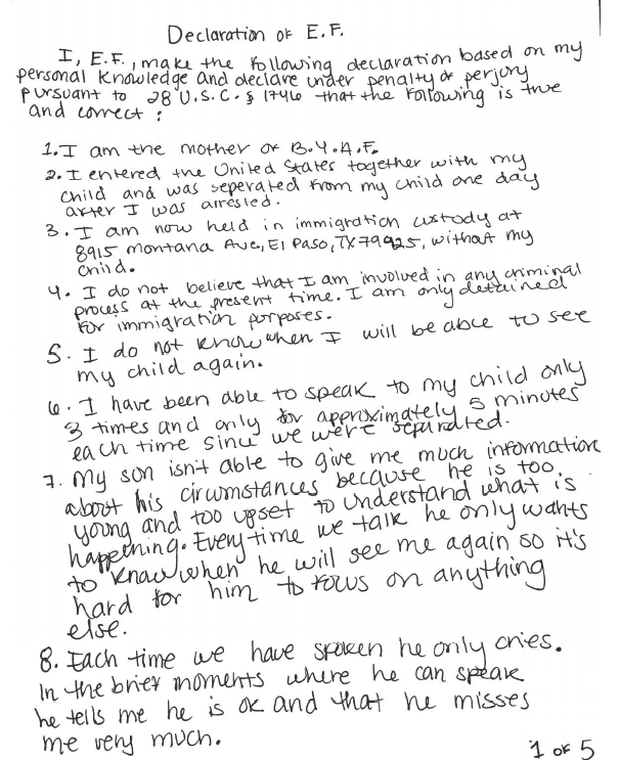 CBS News screenshot of court filing
— CBS News' Andres Triay contributed to this report.
© 2018 CBS Interactive Inc. All Rights Reserved.