Shark attack survivor learned tactic from nature docs that saved his life
Bill Lytton was vacationing with his family on Cape Cod about two weeks ago when a shark bit into his leg and nearly killed him. The attack was Massachusetts' first since 2012.
Lytton spoke with "CBS This Morning: Saturday" co-host Michelle Miller about the harrowing attack and how he is lucky and thankful to be alive. He barely escaped with his life while swimming just a few yards off shore.
CBS News
"I'd been gone 20 minutes and that's when my leg was seized," said Lytton, who is 61. The pain was "beyond excruciating.
"I felt like I was in a wrestling match because this animal was trying to flip me… I turned my head around I see a big head on my leg that belongs to the shark. And this was my advantage, as it turns out," he said.
His advantage because of something he had seen on TV.
"Nature documentary 101 — I knew dolphins always hit the gill, that's the place you go to attack the shark," Lytton said. "I punched it on the gill… and it released and swam away," he said.
Luckily, Lytton said, there were people close enough to hear his yells. He called for help and they dragged him on to shore.Two nursing grads were among the beachgoers.
"We were like, he's breathing, he's conscious, let's stop this bleeding," Molly Tobin recalled. "We're like, let's get him in this towel. A bunch of people were around. We all started carrying him down.
Lytton was airlifted to a medical center where doctors put him in a two-day coma and performed half a dozen surgeries. He was sent to rehab about 10 days after the attack. Still, he plans to swim in the ocean again.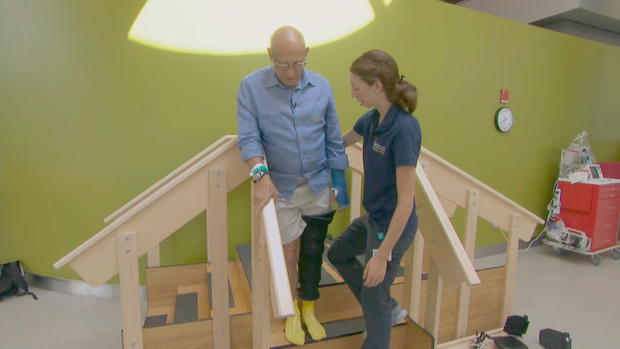 CBS News
"I would probably be very hesitant when I go to that very same beach," he admits. "It'd freak me out a little to go in the same place, even though lightning never strikes twice, right?"
Lytton's wife did not want to be on camera but says she's grateful for all the people who have helped him recover, including a police officer who drove her more than two hours to the hospital because she was too shaken up to drive herself.
© 2018 CBS Interactive Inc. All Rights Reserved.