Sunny Weekend, Irma's Remnants Next Week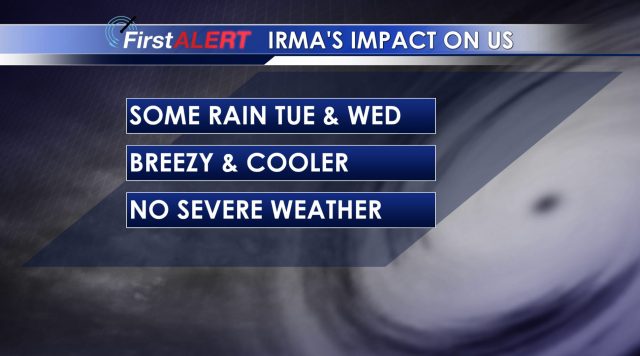 FRIDAY NIGHT: Clear and quiet conditions are in store under a bright nearly fully moon. Lows will be in the mid 50s.
SATURDAY – MONDAY: Look for continued sunshine along with highs in the low 80s. Overnight lows stay in the mid to upper 50s. Wear plenty of sunscreen if you'll be heading the the Ole Miss game in Oxford or the Alabama game in Tuscaloosa Saturday.
TUESDAY – WEDNESDAY: The remnants of Irma may give rise to areas of rain, clouds, and breezes across northeast MS and west AL. No significant impacts are expected at this time. Cooler 60s and 70s may be the best we can do for high temperatures.
THURSDAY – FRIDAY: A return to sunshine and pleasant weather is a good bet. Highs return to the 80s.
Follow @WCBIWEATHER on Facebook, Twitter, and Instagram