Utah family discovers ancient horse skeleton in backyard
SALT LAKE CITY — A family in Utah working on a landscaping project ended up finding the bones of an ancient horse, according to CBS Denver. "We started to dig with our fingertips and found ribs," said Bridger Hill, the homeowner.
The family eventually uncovered most of a complete skeleton. While the head was missing, the bones that were found were almost perfectly preserved. So they got some help from an expert, Rick Hunter, a paleontologist at the Museum of Ancient Life in Lehi, Utah.
"Well, of course it's from the ice age," Hunter said. "It must be about 16,000 years old."
Experts believe the bones resemble a Shetland pony. But how they ended up where they did, remains a mystery. According to The New York Times, Hunter theorizes that since Utah was once covered by a prehistoric lake, the animal may have run into the water in order to escape a predator, and got trapped.
The Times reports the skeleton is now back at the museum, where it will be preserved and repaired.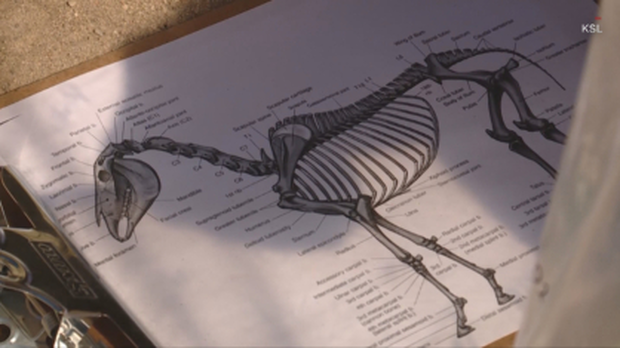 CBS News
© 2018 CBS Interactive Inc. All Rights Reserved.