Some Severe Storms Expected Tonight
SEE THE LATEST WEBCAST DISCUSSION WITH FUTURECAST HERE.
CHECK THE LATEST STORM PREDICTION CENTER OUTLOOKS:
SATURDAY
SUNDAY
MONDAY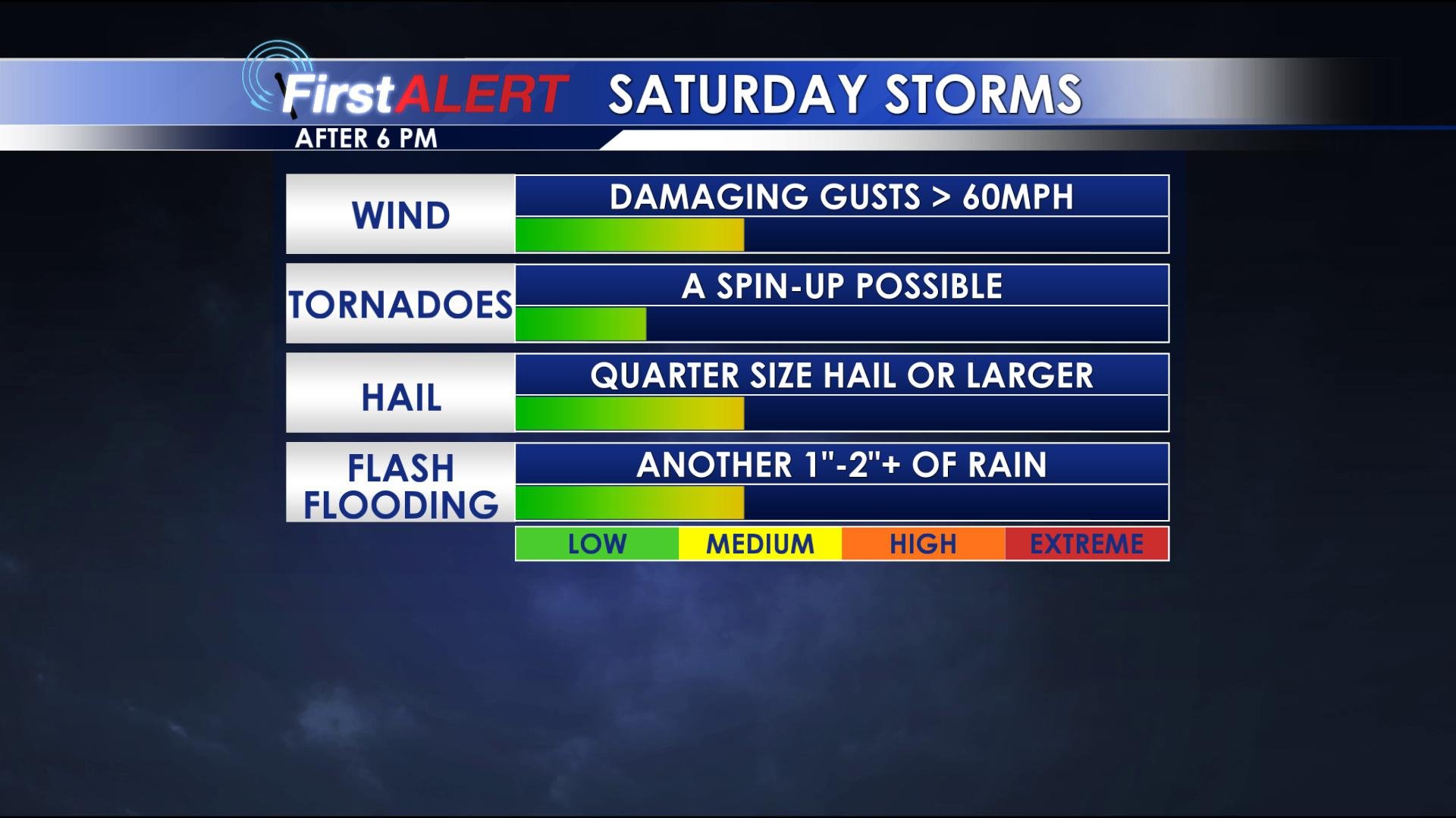 SATURDAY: The day starts overall dry and mild, but a few showers and storms can't be ruled out in the morning. Those are not expected to be severe. Temperatures climb into the upper 70s and low 80s into the afternoon. After lunch, a few more pop-up storms can be expected, though better chances for storms holds off until the evening into the overnight hours.
By Saturday Evening, we anticipate a batch of storms to push east into our area. This batch of storms has the potential to bring severe weather into our area, with the main threats being damaging winds and large hail. The tornado threat looks lower, but a few spin-up tornadoes are possible within the line. Saturday Night, lows fall into the mid 60s.
SUNDAY: More rain and storms are expected, but it won't be a washout. We think that we'll see some complexes/clusters of storms capable of strong to severe storms in the area with again the main threats being wind and hail. A few tornadoes can't be ruled out again though, but the threat still looks lower for that. Look for highs in the upper 70s and low 80s again with a mix of sun and clouds.
MONDAY: Some rain and storms could hang on around but most of the activity should shift to our east by the afternoon as the cold front pushes through. We can't rule out a few stronger storms again until the front pushes through. Temperatures dip back into the 70s.
TUESDAY-WEDNESDAY: Fair weather settles back in. Seasonably warm highs in the upper 70s to around 80 can be expected again.
THURSDAY: Another storm system passes to our north. We think there's a low-end chance for a few showers and thunderstorms, but moisture may be lacking which would keep it from being a washout. We'll monitor.
FRIDAY – NEXT WEEKEND: We're hoping to push some drier air in place and cool temperatures still just a bit. We'll keep you updated, but we'd like to think things are trending towards a mix of sun and clouds with seasonal temps in the 70s.
FOLLOW @WCBIWEATHER ON FACEBOOK, INSTAGRAM AND SNAPCHAT.