More Severe Storms Later Today
SEE THE LATEST WEBCAST DISCUSSION WITH FUTURECAST HERE.
MONDAY: Rain and storms are expected again. While the day won't be a washout, we do anticipate redevelopment of scattered storms. Some storms will be severe, with damaging winds and large hail the main threats. There also is a window of opportunity for a tornado or two in our area, but that remains conditional and uncertain. We anticipate to see storms redevelop in the morning hours, with on again, off again storms through the evening. By Monday Night, the area of low pressure shifts to our east, ending the severe threat. We will have the chance for some showers to last into Tuesday morning. Look for highs today to climb into the 70s, with lows tonight near 60.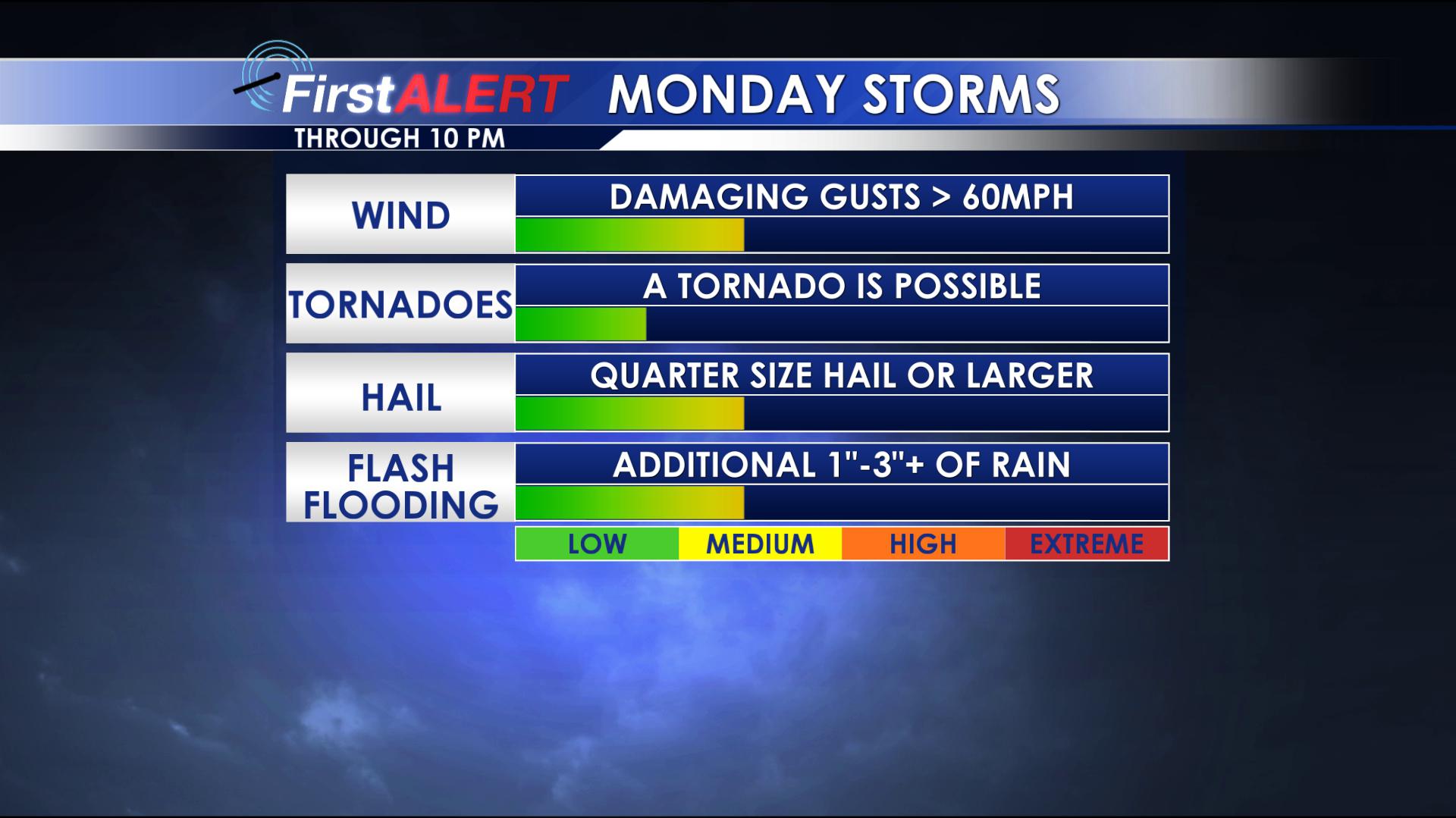 TUESDAY-WEDNESDAY: Fair weather settles back in, with a few showers perhaps to start off Tuesday. Seasonably warm highs in the upper 70s to around 80 can be expected again.
THURSDAY/THURSDAY NIGHT: Another storm system passes to our north. We think there's a low-end chance for a few showers and thunderstorms, but moisture may be lacking which would keep it from being a washout. We'll monitor. Some storms could last into early Friday.
FRIDAY: It's possible we could see a few remnant showers and storms to start our Friday, but we'll anticipate a mix of sun and clouds by Friday Afternoon. Look for highs in the low to mid 70s.
NEXT WEEKEND: Odds are increasing for numerous showers and storms next weekend. While as of now we think the severe threat remains low, there's still a lot of time for things to adjust. That being said, heavy rain may become a concern with more localized flooding possible. Look for highs in the 70s with lows in the 50s and 60s.
FOLLOW @WCBIWEATHER ON FACEBOOK, INSTAGRAM AND SNAPCHAT.