Ariz. killing spree suspect ranted about divorce in YouTube videos
SCOTTSDALE, Ariz. — The man who police say killed six people in the Phoenix area spent hours online griping about his ex-wife and the family court system that sided with her in a contentious divorce years ago. Dwight Lamon Jones spoke in a series of YouTube videos posted in May about the judge, counselor and prominent forensic psychiatrist in the case.
The psychiatrist, Steven Pitt, who also assisted in the JonBenét Ramsey mystery in Colorado, was called a "scumbag" by Jones in one of the videos. He was killed Thursday.
Scottsdale PD via KPHO
Jones was divorced in 2010 and his ex-wife was awarded custody of their son. Pitt had evaluated Jones and testified that year that he had anxiety and mood disorders and symptoms of a paranoid personality.
A hunch from a retired detective helped lead police to Jones and link the victims, some of whom were connected to the divorce case, authorities said after the assailant killed himself inside a Scottsdale hotel Monday with officers closing in.
In an unexpected twist, the suspect's ex-wife, Connie Jones, said her current husband, a retired police detective, made the connection between her divorce and the crime scenes and notified police of his suspicion Saturday night.
The victims included Pitt, two paralegals who worked for the law office that represented Jones' wife, and a marriage-and-divorce counselor who was apparently targeted in a case of mistaken identity.
Authorities have since named two other victims found shot dead early Monday in their Fountain Hills home as 70-year-old Mary Simmons and 72-year-old Bryon Thomas. Police said they had probable cause to link all six killings to the dead suspect, but they have not disclosed a connection between Jones and the victims in Fountain Hills.
CBS affiliate KPHO reports that Jones was already on investigators' radar Monday when they saw him dumping a bag that contained a gun that had been stolen from the Fountain Hills home.
Connie Jones said in a statement that her ex-husband was a "very emotionally disturbed person."
In the YouTube videos, Jones appeared to be resentful about the divorce and accused his ex-wife and her attorney of spreading lies. Jones posted a total of 18 videos, some of them nearly an hour long, KPHO reports. They've since been removed.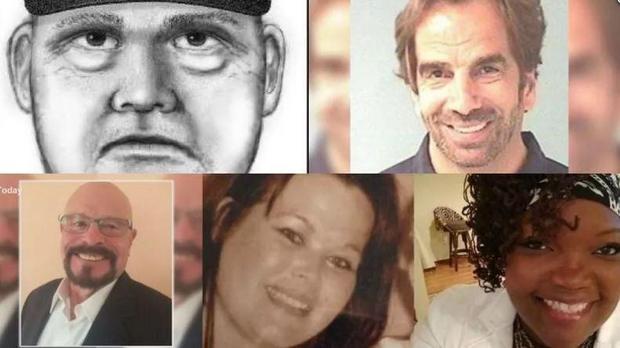 KPHO-TV
"Her attorney told her to plant those tapes and do all that devious stuff she did," Jones said in one clip.
According to KPHO, in another video Jones posted titled "An open letter to my son," Jones said, "I've been trying to contact you since the last time I've seen you which was 2011…. I know she's been telling you lies about why we got divorced."
Police say one of Jones' victims was Marshall Levine, a man who happened to take over the same office space as Karen Kolbe, who may have been his intended target because she was his son's counselor. The son is now 21.
Paralegals Veleria Sharp, 48, and Laura Anderson, 49, worked at the law office that represented Jones' wife. Police believe Jones may have been targeting the attorney, but she was not present Friday when Jones went to the office in downtown Scottsdale.
Sharp was shot in the head but ran out of the office to get help before collapsing on the street, police said. She was pronounced dead at a hospital.
In the videos, Jones appears bitter about the divorce, In many of the videos, Jones pointed the camera at a white mask, while speaking softly in the background, reports KPHO. In others, he narrated over a recorded "risk assessment" interview between his ex-wife and Pitt.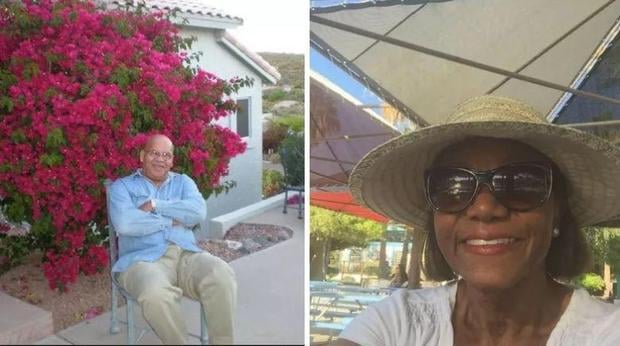 KPHO
Pitt was retained by Connie Jones' lawyer to conduct the interview and get a better understanding of her relationship with Jones, the station reports.
In one of the YouTube videos, Jones reportedly described a fight between himself and his ex-wife during which police were called.
"It was a setup. She claimed I hit her even though the police found no evidence of a physical struggle," Jones said.
But Jones was accused multiple times throughout the 20-year marriage of being physically abusive to the woman, including one incident where he fractured her sternum in 2007, according to the couple's divorce records obtained by KPHO.
Records show Jones was arrested on suspicion of domestic violence in 2009 but the status of the case was unclear. Court documents say Jones attacked Connie Jones in front of their son, "backing the mother into a wall, pushing and hitting her in the face with his forearm," the station reports.
Thomas Mangan, a spokesman for the Bureau of Alcohol, Tobacco and Firearms, said Tuesday that a .40-caliber Glock handgun legally owned by Jones was linked to some of the attacks. Mangan said the earlier incident didn't legally prevent Jones from buying the gun, which has been recovered by authorities.