Attala County man faces kidnapping charge in Lee County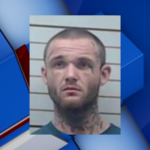 LEE COUNTY, Miss. (WCBI) – An Attala County man is facing a kidnapping charge in Lee County.
23-year-old Preston Dean was also charged with aggravated domestic violence and burglary.
Sheriff Jim Johnson said deputies were called to an Auburn Road home earlier this week about a possible kidnapping.
Investigators believed the victim and Dean were in a previous relationship.
The woman said Dean came into her home, restrained her, and beat her over a 30-hour period.
She was able to escape and call for help.
He was arrested shortly afterward.
Dean is currently on an ankle monitor with MDOC for convictions of Grand Larceny and Felony Taking of a Motor Vehicle.
His bond in Lee County was set at $500,000.
For 24/7 news and updates, follow us on Facebook and Twitter