Columbus man arrested in Pickens County for alleged forged checks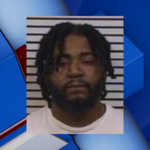 PICKENS COUNTY, Ala. (WCBI) – A Columbus man was arrested in Pickens County for alleged forged checks totaling hundreds of thousands of dollars and drugs.
During a traffic stop on Highway 82, a Pickens County deputy said marijuana was being thrown from the window of Tony Kidd's car, which landed on the patrol vehicle.
Marijuana and other paraphernalia were found in Kidd's vehicle. The deputy made another discovery: 45 forged checks totaling just over $390,000.
Kidd was charged with 45 counts of third-degree possession of a forged instrument and one count each of first-degree theft and attempted first-degree theft.
He was also charged with second-degree possession of marijuana, tampering with evidence, and possession of drug paraphernalia, and he received a citation for speeding.
He is sitting in the Pickens County Jail with a bond set at $500,000.
For 24/7 news and updates, follow us on Facebook and Twitter