Diving into the unknown, student athlete proves the merits of hard work
ARLINGTON, TEXAS — They were the bad news bears of swimming. In fact, coach Alex Weidemann of Seguin High School in Arlington, Texas, says you can't overstate their underachievement.
"Our goal every meet was to finish the race. Get across the pool," Alex said. "Really, we measured our success on not getting disqualified."
Because that was the standard, four years ago, Gerald Hodges made the team — perhaps the only kid to ever make a high school swim team without a clue how to swim.
CBS News
"We had to get anybody, it didn't matter," said Alex. "He couldn't get across five yards, let alone 25 yards."
Eventually, he at least learned how to not drown, and even finished some races, albeit long after the other competitors were done and toweled off. Yes, he was that bad. Which is interesting, because on dry land, Gerald is a remarkable athlete. So why swimming?
"I felt like if I couldn't handle not being good at something, then how could I consider myself a successful person," Gerald said.
To Gerald, setting yourself up for failure is actually the key to future success. Especially if you can somehow manage to master your weakness. By start of his senior year, Gerald had actually improved a lot.
But no one really knew how much he'd improved until a big regional meet earlier this year. It was the 200-yard medley relay. The top two teams qualify for state, and as usual, Seguin was pretty much in last place with 50 yards to go. That's when Gerald jumped in the water.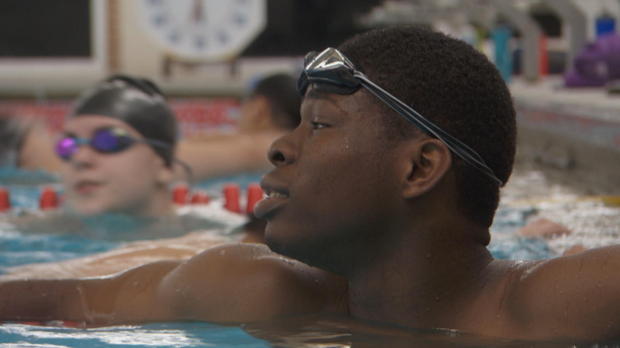 CBS News
Keep in mind, at this level, making up any significant time is nearly impossible. Unless maybe you've got something to prove. Unless, maybe, there's an extra drive deep within anyone who knows what it's like to be dismissed. Whatever it was, the kid who couldn't swim, sent his team to state.
"Man, we were ecstatic," Gerald said. "I could barely contain my energy as I was trying to go get this medal! I'm sitting here just freaking out!"
From now on, whenever you think anything is impossible, think of Gerald. Whenever you think America has lost its heart, think of Gerald.
© 2018 CBS Interactive Inc. All Rights Reserved.