Fulton police seek public help in identifying car burglary suspects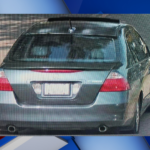 FULTON, Miss. (WCBI) – Fulton police needed your help to find any suspects involved in a burglary crime.
Three vehicles were burglarized and three firearms were stolen at Mueller Brass earlier on September 12.
Investigators provided the suspect vehicle, a 2006 Honda Accord Hybrid, captured by security cameras.
If you have any information related to this case, contact the Fulton Police Department at (662)862-3441.
For 24/7 news and updates, follow us on Facebook and Twitter