Infant found dead at accused incest couple's address
Wake City-County Bureau of Identification via WNCN
Last Updated Apr 12, 2018 5:02 PM EDT
NEW MILFORD, Conn. — Police in three states are investigating the apparent murder-suicide deaths of a father and daughter accused of incest, their infant son, and a man reported to be the woman's adoptive father.
Police in Knightdale, N.C. say they responded to a home around 9 a.m. where Steven Pladl, 45, and his biological daughter Katie Pladl, 20, were living when they were arrested on incest charges out of Henrico County, Va. in January. There, they found 7-month-old Bennett Pladl dead in a suspected homicide, Knightdale police say. No one else was in the home.
About 20 minutes earlier, 600 miles north in New Milford, Conn., police responded to the report of a shooting and found a man and a woman dead in a pickup truck. They developed information on a suspect vehicle, which was later spotted several miles away across the New York State line in Dover. In the car, troopers found the suspect dead of an apparent self-inflicted gunshot wound.
An attorney for Steven Pladl tells CBS affiliate WNCN the people who were shot dead in Connecticut Thursday morning were Katie Pladl and her adoptive father. He says Steven Pladl was the suspect found dead in the other vehicle.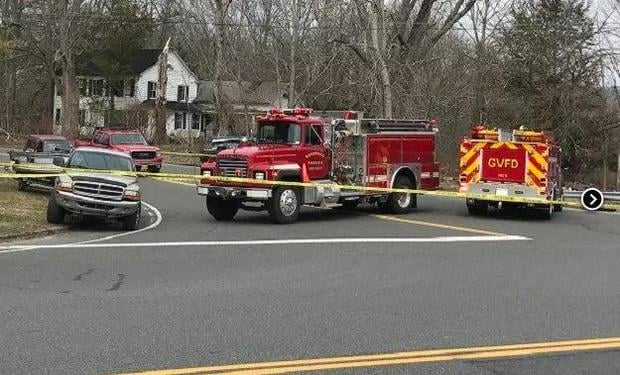 WFSB
Knightdale Police Chief Lawrence Capps confirmed in a press release the infant's death is linked to the shootings in Connecticut and New York and that Katie and Steven Pladl were involved.
Officers responding to reports of gunfire around 8:40 a.m. in New Milford, Conn. found the victims inside the truck with a window shot out at an intersection on Route 7, New Milford Police Lt. Lawrence Ash said. Police were searching for the suspect's vehicle, a Honda minivan, when he was found dead inside the vehicle several miles away in Dover, New York.
Steven Pladl and his wife at the time gave Katie up for adoption shortly after she was born in 1998, but in 2016 at age 18, Katie located her birth parents and began living with them in their home west of Richmond, WNCN reported. That's when the alleged relationship between the father and daughter began, leading to Steven Pladl's separation from his wife, Katie' mother.
Katie and Steven Pladl reportedly had the baby together in September 2017, married and moved to Knightdale, North Carolina, where they were arrested in January.
They were both charged with incest, adultery, and contributing to delinquency and bonded out of jail. Steven Pladl's bond conditions were modified this month to allow him to travel to North Carolina, but he was to live at a different home, reports WTVR.
Katie Pladl's bond terms required her to live with her adoptive parents, who live in New York, the station reports. She was allowed to travel out of state.
© 2018 CBS Interactive Inc. All Rights Reserved. This material may not be published, broadcast, rewritten, or redistributed. The Associated Press contributed to this report.