Law enforcement launches search after drive-by shooting in Brooksville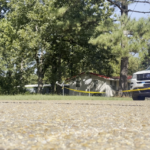 BROOKSVILLE, Miss. (WCBI) – Brooksville police are looking for the shooter who injured a man and damaged homes in a drive-by Monday morning.
30-year-old Glenn Omar Dooley was shot in the head and is in critical condition at a Jackson hospital according to Brooksville Police Chief Johnnie Burchfield.
The shooting happened on Martin Luther King Jr. Drive just after 1 a.m.
Investigators believed the victim was walking down the street when he was shot.
Officers believed the gunfire came from a dark-colored vehicle.
Two homes were damaged by bullets.
Area law enforcement is assisting in the case.
No arrest has been made.
If you have any information about this shooting, call Golden Triangle Crime Stoppers at (662)494-0109 or Brooksville City Hall at (662)738-5531.
For 24/7 news and updates, follow us on Facebook and Twitter