Macon duo faces charges for alleged burglary in Noxubee County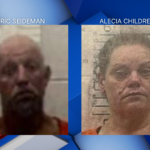 NOXUBEE COUNTY, Miss. (WCBI) – Two people from Macon were accused of taking items across Noxubee County.
Eric Seideman and Alecia Childress were both charged with burglary of a dwelling and grand larceny.
Investigators told WCBI that furniture was stolen from a home on Mahoma Road.
Some industrial equipment was also taken.
Bond has not been set.
Deputies encouraged everyone to lock up their belongings.
For 24/7 news and updates, follow us on Facebook and Twitter