New video shows missing father's final moments on pier
HERMOSA BEACH  — Out for a night at the Hermosa Beach Pier. He walked into the dark and vanished. CBS Los Angeles reports there is a major new effort to help find the Iraq War veteran and father of three.
CBS Los Angeles has obtained video never seen before of his final moments at that pier. Grainy clips from a security camera at the last moments Michael VanZandt was seen alive.
The 36-year-old can be seen leaving a bar near the Hermosa Pier and going next door to an ATM.
Later he's seen walking toward the beach and then vanishes. He hasn't been since March 2016.
"There's no closure," said Michael's brother Tyler VanZandt. "I think that's the toughest part"
Michael's disappearance is always on Tyler's mind.
"Every day is an evolution. I think being the glue that held everything together early on sort of allowed me to be distracted from it. Grieve in my own way," said Tyler.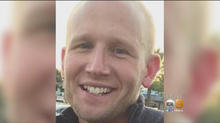 CBS Los Angeles
The 36-year-old father of three and Air Force veteran was in Hermosa Beach for a night out on the town with friends. Michael was with his pals initially at the American Junkie Bar — then left to stop at the ATM next door. While he was gone, his friends left for another venue. They texted him but Michael's phone died and police say based on the security footage of him walking around he never got their message.
For the first time since Michael vanished, his mother visited Hermosa Beach from Michigan where the family is originally from. She wanted to see for herself where this mystery unfolded.
"I saw the club. The American Junkie. As soon as I saw that sign it was hard not to cry," said Robyn Gretz. "It was tough."
Hermosa Beach police never found Michael's phone, clothing or any other major clues. There's no evidence of foul play or any indication that he intentionally hurt himself.
"In our instance there's really no conclusion so it's really hard to know where to settle," said Tyler.
Michael's children live in the L.A. area with their mother — ages 16, 13 and 11 now.
© 2018 CBS Interactive Inc. All Rights Reserved.