Officer who fatally shot running teen was just sworn in
Large crowds of protesters filled the streets of East Pittsburgh, Pennsylvania, Wednesday, to demand change after an officer shot and killed an unarmed black teen. Cellphone video appears to show 17-year-old Antwon Rose Jr. running from police Tuesday night. Rose was shot three times and died later at a local hospital.
The officer involved in this shooting has not been identified, but CBS News has learned that he was new to the East Pittsburgh police force. He was sworn in just before the fatal shooting but had served as an officer in the region since 2011, according to CBS affiliate KDKA.
"I understand in today's atmosphere, any time a young man is killed, there's cause for outrage in some areas," said Allegheny County police Superintendent Coleman McDonough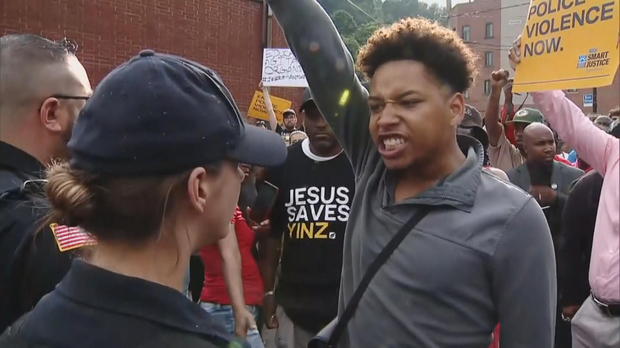 CBS News

McDonough said the officer involved has been placed on administrative leave as they conduct an independent investigation.
"I would urge people to give us time to conduct an objective investigation. To gather facts," McDonough said.

McDonough says the vehicle Rose was in matched a car involved in a nearby drive-by shooting. One person in the car was detained and later released; police said they found two firearms in the vehicle. But Rose was unarmed as he and another suspect ran away and the officer opened fire. Rose's uncle said he sees rage growing in his community amid reports it was the officer's first day on the job.
"The police officers, I know they got a very hard job and everything. But you know what? You know, you gotta be fit for the job," Rose's uncle said.
Superintendent McDonough said the officers did not have body cameras or in-car cameras to record the incident. Another protest is planned for Thursday at the county courthouse. The third suspect who also fled police is still at large Thursday morning.
© 2018 CBS Interactive Inc. All Rights Reserved.