Second night of rowdy protests over fatal police shooting of teen
EAST PITTSBURGH, Pa. — For the second straight night, hundreds of people took to the streets Thursday over the fatal police shooting of a 17-year-old boy. Protesters demonstrated outside the East Pittsburgh police headquarters, then began marching through the streets, eventually shutting down a major interstate. That backed up traffic for miles, reports CBS Pittsburgh.
Antwon Rose Jr. was shot by an East Pittsburgh officer Tuesday seconds after he fled from a traffic stop in a confrontation partly captured on video and posted on Facebook by a bystander.
Police had stopped the car he was riding in as part of an investigation into an earlier shooting.
The video shows the officer firing three shots seconds after Antwon and another passenger are seen dashing from the car.
CBS Pitttsburgh says by 11 p.m. Thursday, the protesters had shut down the busy highway for about two hours. At one point, police say, a truck driver got out of his truck and threatened protesters with a tire iron.
Around 1 a.m. Friday, police told demonstrators still on the scene to leave or be arrested. Around 1:30 a.m., officers began arriving in riot gear to try to break up the lengthy protest. Just after 2 a.m., officers began moving in on the few protesters left, some on the street, others who'd moved off behind a guardrail. At least one woman was taken into custody.
A lawyer for Antwon's family said the boy didn't pose an immediate threat to anyone. Civil rights attorney S. Lee Merritt said he doesn't see any apparent justification for the use of deadly force by the officer.
Allegheny County police are conducting an independent investigation of the shooting in East Pittsburgh, a borough about 10 miles east of Pittsburgh.
The shooting has sparked some social media outrage and calls for punishment of the officer, including from rapper Nas and a handful of other celebrities.
The officer was identified Thursday as Michael Rosfeld by the Allegheny County Police Department, according to CBS Pittsburgh. He's been placed on administrative leave.
CBS Pittsburgh
East Pittsburgh Mayor Louis Payne said the officer had worked for the department for two weeks and was officially sworn in a few hours before the shooting. Payne said the officer has eight years of prior law enforcement experience.
A Wednesday night protest at the East Pittsburgh police headquarters lasted for several hours and drew more than 100 people, some of whom laid down in front of a police cruiser.
A protest Thursday afternoon at the Allegheny County courthouse attracted nearly 1,000 people, including speakers decrying police use of force and gun violence.
Investigators said the officer stopped the car Antwon and two other people were riding in Tuesday because it matched the description of a car reported to be involved in a shooting about 15 minutes earlier in a nearby town. As the officer took the driver into custody, the short video shows Antwon and the other passenger running from the car.
The officer quickly fired three shots, all of which struck Antwon, who later died at a hospital from his injuries. The medical examiner has not said where the teen was struck.
"We must emphasize that rumors of (Antwon) being involved in a separate shooting are unsubstantiated," Merritt wrote in his statement, saying the use of deadly force seems unjustified. "We know that he was not armed at the time he was shot down, that he posed no immediate threat to anyone."
Antwon's friends, family and teachers said he was a promising student, who volunteered at a charity, was generous and had a "million-dollar smile."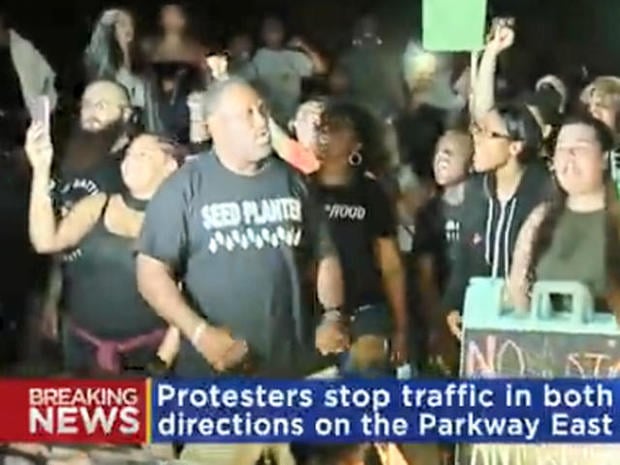 CBS Pittsburgh
Allegheny County Police Commissioner Coleman McDonough said Wednesday he is confident the car Antwon was in was involved in the earlier shooting, partly because a window had been shot. He said officers found two guns in the car, and that the driver was released after questioning without being charged.
McDonough confirmed that Antwon wasn't armed and that no shots were fired at the officers.
Pennsylvania law allows officers to use deadly force against a fleeing suspect in only a handful of circumstances. It's permitted if the suspect poses a threat of immediate danger, has used or threatened lethal violence previously or possesses a lethal weapon.
Leaders of the Pittsburgh-based Black Political Empowerment Project asked Thursday for the Pennsylvania attorney general's office to investigate this and other police-involved shootings, citing only two instances where the Allegheny County district attorney has filed homicide charges against police officers in fatal shootings in the last 20 years.
A joint statement from East Pittsburgh officials and police issued Thursday expressed condolences and sadness over Antwon's death and asked the community to respect the investigative process.
Democratic U.S. Sen. Bob Casey also issued a statement Thursday saying the teen's family has a right to answers.
"I am disturbed by what I saw on the video, and I have numerous questions about exactly what happened and why," he said.