Skeletal remains of three females found near construction site
WUSA9 reporter Michael Quander via Twitter
WASHINGTON — Officials in Washington said Monday it is unclear what caused the deaths of three females whose skeletal remains were found in and near a construction site on Wednesday and Saturday. The first remains were discovered by construction workers in a crawlspace of an apartment building, and the other two were found by investigators in what police describe as a shallow grave.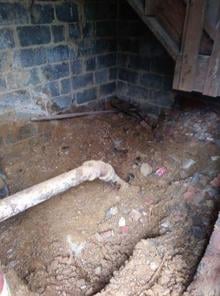 WUSA9's Scott Broom via Twitter
They haven't yet been identified.
Neighbor William Bailey told CBS affiliate WUSA9 he talked to the construction workers who made the first gruesome discovery last week, and told them to call 911. He said they were "shocked."
"We are cleaning and reconstructing the skeletal remains of each individual," said Roger Mitchell, Jr., a forensic pathologist who works for the city's Office of the Chief Medical Examiner, during a press conference Monday afternoon.
Mitchell said the process is difficult in part because the two sets of remains found in the shallow grave were "co-mingled."
Investigators plan to construct biometric profiles for each set of remains, in order to identify the age, ancestry, and stature of the deceased person. Mitchell said the remains are at the very least a year old, but couldn't estimate how long they had been buried.
Mitchell added that investigators do have DNA samples for each female.
"There is no doubt that if we get to a place where we have either a family or an individual to do DNA comparison, I'm quite certain that we have DNA to compare with," Mitchell said.
© 2018 CBS Interactive Inc. All Rights Reserved.