Talladega Superspeedway open to evacuees
TALLADEGA, Ala. – With the growing threat of Hurricane Florence off the Atlantic Coast, Talladega Superspeedway will offer a portion of its campgrounds – which will include hot shower and restroom facilities, as well as water hookups on gravel areas – free to evacuees seeking temporary refuge, beginning Thursday (Sept. 13) morning at 9 a.m. CDT.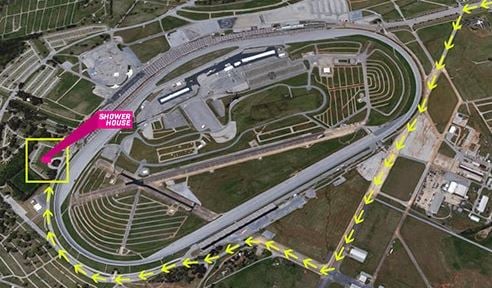 t
The mammoth 2.66-mile track, which has the largest amount of property in NASCAR, is opening its Winner's Walk I reserved RV area outside of Turn 1 – a free, safe destination for individuals needing a place to bring their campers, trailers and vehicles (no commercial vehicles allowed) to escape the wake of the potentially catastrophic storm. In addition to the showers and restrooms, Winner's Walk I is a reserved area allowing both RV and tent camping on the gravel areas (with grass). While it doesn't have electrical hookups, the beautiful tree-lined area contains two dump stations.
"We at Talladega Superspeedway are committed to helping our friends in the Carolinas and the surrounding states during this time of need," Talladega Superspeedway Chairman Grant Lynch stated of the venue, which is located just off I-20 between Atlanta (GA) and Birmingham, AL. "We hope to provide a sense of relief by offering a place to stay for no charge for evacuees during this time of adversity. Our thoughts and prayers go out to everyone in the path of the storm."
Evacuees must have all pets (domestic animals) on leashes while on the property and livestock isn't allowed.