Tens of millions face flooding threat across Midwest
More heavy rain is coming to the Midwest, an area already waterlogged after powerful weekend storms. Tens of millions face the threat of flooding, with forecasters predicting the storm system will stall over the region.
At least six states are under flood watches or advisories.
Iowa has been especially hard-hit, with nearly one-third of the state under a flash flood watch through Monday afternoon.
There were multiple tornadoes over the weekend in Michigan, and parts of Wisconsin have gotten more than 14 inches of rain over the past two weeks, reports CBS News correspondent Tony Dokoupil.
CBS News
Flooding has caused an estimated $50 million in damage so far, and now there's more rain on the way.
Still reeling from days of damaging weather, this weekend capped off the second wettest August on record in Wisconsin.
"It's heartbreaking to see the damage," said Governor Scott Walker, who toured one of the hardest-hit counties Friday after declaring a statewide emergency last week.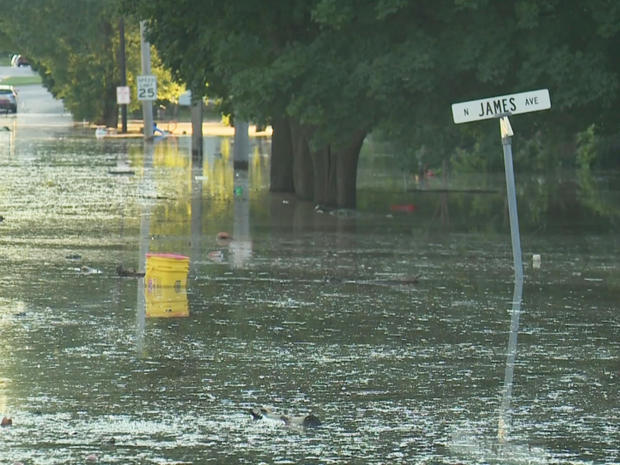 CBS News
The National Weather Service confirmed at least 3 tornadoes touched down in three different counties in Michigan, including in Barry County, where a twister snapped a huge tree and brought it crashing down on one home.
"It didn't sound like a freight train or whatever they say; it just sounded like a real huge wind," one witness said.
In Lincoln, Nebraska, the skies opened up Saturday night over Memorial Stadium at the University of Nebraska. The delay turned into a cancellation, marking the first time in school history a football game was canceled because of weather.
In Pennsylvania, Lancaster and York Counties are cleaning up after heavy downpours left a destructive mark in the region. Officials in both counties issued disaster declarations after multiple roads were damaged during the storm.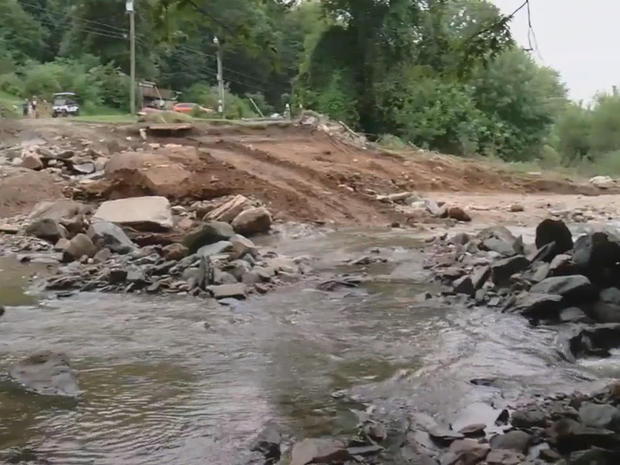 CBS News
"I was amazed, actually, because it has rained harder than that here and we've never had this kind of destruction," said one woman amidst the destruction.
In Mount Joy, where more than nine inches of rain fell over a three-hour period on Friday, damage assessments revealed some harsh realities.
"Every bit of her furniture is out here," said resident Connie Guy. "She lost everything that gives her quality of life."
Forecasters say tropical air from the Gulf of Mexico will add to the intensity of the downpours and may bring more than a month's worth of rain to some areas.
Meanwhile, the Gulf Coast is being told to watch out for a potential tropical storm. The National Hurricane Center says it could reach tropical storm strength tomorrow.
Meteorologist Danielle Niles of CBS' Boston station WBZ has been tracking this slow-moving storm and the flood threat in the Midwest, both of which are going to have major impacts over the next several days.
On Monday morning there are flash flood watches and warnings from Kansas to Nebraska, stretching to portions of Iowa and northern Illinois.
"The renewed risk of flooding and additional rainfall over the next couple of days is on the order of 4 to 8 inches," said Niles. "Flooded fields, rising rivers and creeks are going to be a major concern with a significant impact there through Wednesday at least."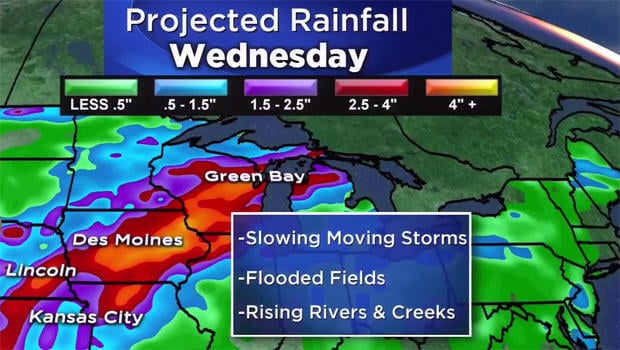 CBS News
Meanwhile, the threat along the Gulf Coast from a likely tropical storm means rain from Mississippi down through Louisiana as well as storm surge depending upon the exact track of the storm. Tropical warnings up are up from Mobile, Ala., through Biloxi and New Orleans, down through Port Sulphur, and towards the central Louisiana coastline.