More Strong to Severe Storms Sunday
SEE THE LATEST WEBCAST DISCUSSION WITH FUTURECAST HERE.
FOLLOW THE WCBI INTERACTIVE RADAR HERE.
CHECK THE LATEST STORM PREDICTION CENTER OUTLOOKS:
SUNDAY
MONDAY
TUESDAY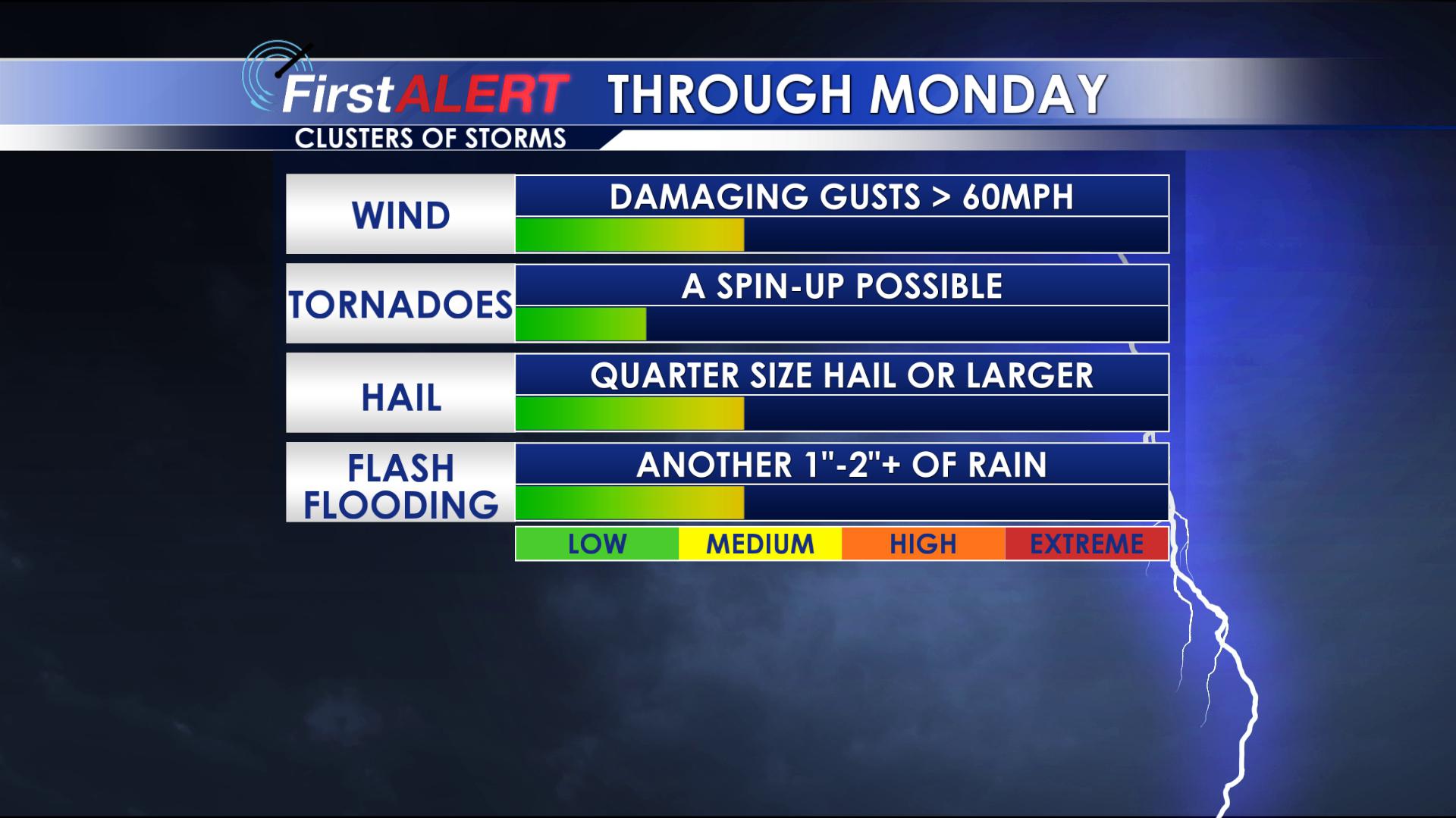 SUNDAY: More rain and storms are expected, but it won't be a washout. We think that we'll see some complexes/clusters of storms capable of strong to severe storms in the area with again the main threats being wind and hail. A few tornadoes can't be ruled out again though, but the threat still looks lower for that. The wildcard on storms on Sunday will be if storms form along the coast. If that happens, we'll see a lower chance for showers and storms in our region. Look for highs in the upper 70s and low 80s again with a mix of sun and clouds.
MONDAY: Some rain and storms could hang on around but most of the activity should shift to our east by the afternoon as the cold front pushes through. We can't rule out a few stronger storms again until the front pushes through. Temperatures dip back into the 70s.
TUESDAY-WEDNESDAY: Fair weather settles back in. Seasonably warm highs in the upper 70s to around 80 can be expected again.
THURSDAY: Another storm system passes to our north. We think there's a low-end chance for a few showers and thunderstorms, but moisture may be lacking which would keep it from being a washout. We'll monitor.
FRIDAY – NEXT WEEKEND: We're keeping the chance for a few scattered showers and storms on the board with seasonal temperatures in the mid 70s. We'll keep you updated as some uncertainty exists still.
FOLLOW @WCBIWEATHER ON FACEBOOK, INSTAGRAM AND SNAPCHAT.