A Clear Sky for the Lunar Eclipse Tonight!
SUNDAY NIGHT: Cold and clear with temperatures falling into the 20s. Wind chills will be between 10-20 degrees. It'll be a great viewing for the lunar eclipse tonight! Look for north winds between 7-12 mph.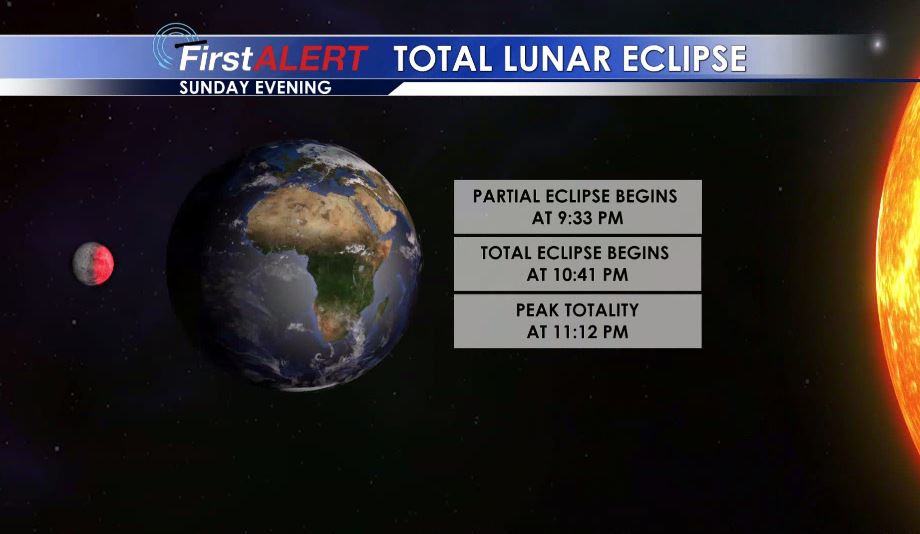 MLK DAY: Sunny and a bit warmer than Sunday with highs in the mid to upper 40s. Overnight lows in the low to mid 30s. Winds will be breezy from the east between 10-20 mph. Wind chills will likely keep it feeling like the 30s through most of the day.
TUESDAY: Temperatures will climb into the 50s during the day. Look for increasing clouds and a few showers by afternoon. By Tuesday Night, rain showers will move in. Low fall into the 40s.
WEDNESDAY: We're expecting rain through much of the day. By the afternoon and evening, rain will end from west to east and cold air is expected to filter on in. It'll be another race to see if any wintry mix and sneak in. As for now, we're advertising a cold rain.
THURSDAY – NEXT WEEKEND: There's a lot of uncertainty with how temperatures will work out, but we're looking to keep things overall below normal and drier. There's a chance another system will work its way in next weekend. There's also a chance that more arctic cold air will come tumbling our way, but there's still uncertainty on when that will happen. We'll be watching.
FOLLOW @WCBIWEATHER ON FACEBOOK, TWITTER AND INSTAGRAM.