Warm and Active Pattern This Week.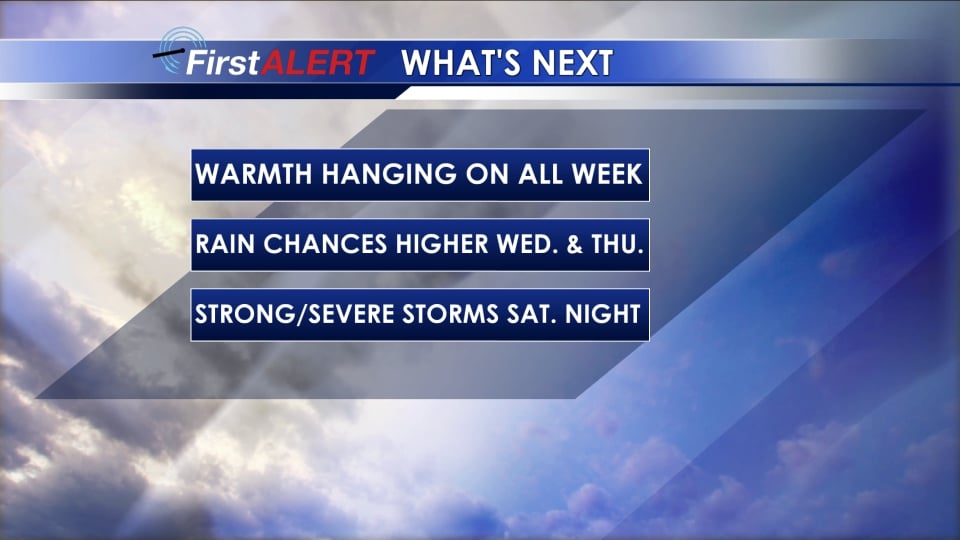 TODAY: Warm and mostly cloudy, with a few peeks of sun possible. Highs in the low 80s. A few isolated showers may develop this afternoon. More spots than not stay dry. Chance of rain around 20%. Mild overnight, with lows in the low to mid 60s.
WEDNESDAY: A cold front very slowly pushes in from our west. This front will stall out west of our area, but will trigger showers and storms. A few showers and storms could produce heavy downpours. Highs around 80, with a 70% chance of rain. Lows overnight in the low 60s as showers continue.
THURSDAY: More rain on Thursday as the front slowly lifts back to the northwest. Highs in the upper 70s, with lows in the 60s. Chance of rain around 60%.
FRIDAY: We keep a low-end chance of rain on the board, but certainly a drier day on Friday. Highs around 80, with lows around 60. Chance of rain around 30%.
SATURDAY: Another cold front will push through the area Saturday evening, triggering thunderstorms ahead of it. Highs reach the low 80s Saturday, and some ingredients will likely be in place to support some strong/severe storms. Right now, it's a bit too early to get specific with the timing and threats of any severe weather, but it's something we will have to keep an eye on. Lows Saturday evening drop into the 50s. Rain chance around 60%.
SUNDAY: As the front stalls to our south, a few showers will remain possible. Highs in the upper 60s, with lows in the 40s. Chance of rain around 40%.
MONDAY: Highs in the upper 60s and lower 70s. Finally, some meaningful sunshine. Having said that, a rogue shower cannot be ruled out Monday, especially in the morning.
LONG RANGE: While specific long-range forecasts don't have very much skill involved, we can gain some insight on the long range pattern using certain atmospheric teleconnections, long range ensemble models, and analog guidance (what did the weather look like last time the atmosphere looked and behaved this way). Based on those three things, it looks like March should start out a bit cooler, perhaps a few degrees cooler than average.