STRONG STORMS MOVE IN THURSDAY
WEDNESDAY: Wednesday will be a warm day, with clouds hanging around across the region. We will begin to see our winds increase throughout the day as our next weather system approaches from the northwest. Highs across the regions today will top out in the middle to lower 60's.
WEDNESDAY NIGHT: Showers and storms will increase throughout the overnight hours on Wednesday. Winds will be gusting up to 30 MPH out of the southeast. Overnight lows will vary in the lower 50's across the region. Heavy rainfall is expected with these storms, as well as gusty winds.
THURSDAY: Strong to severe storms will occur across the region throughout the day on Thursday. The strongest of the storms look to move through the GTR around Noon and Tupelo around 10 AM.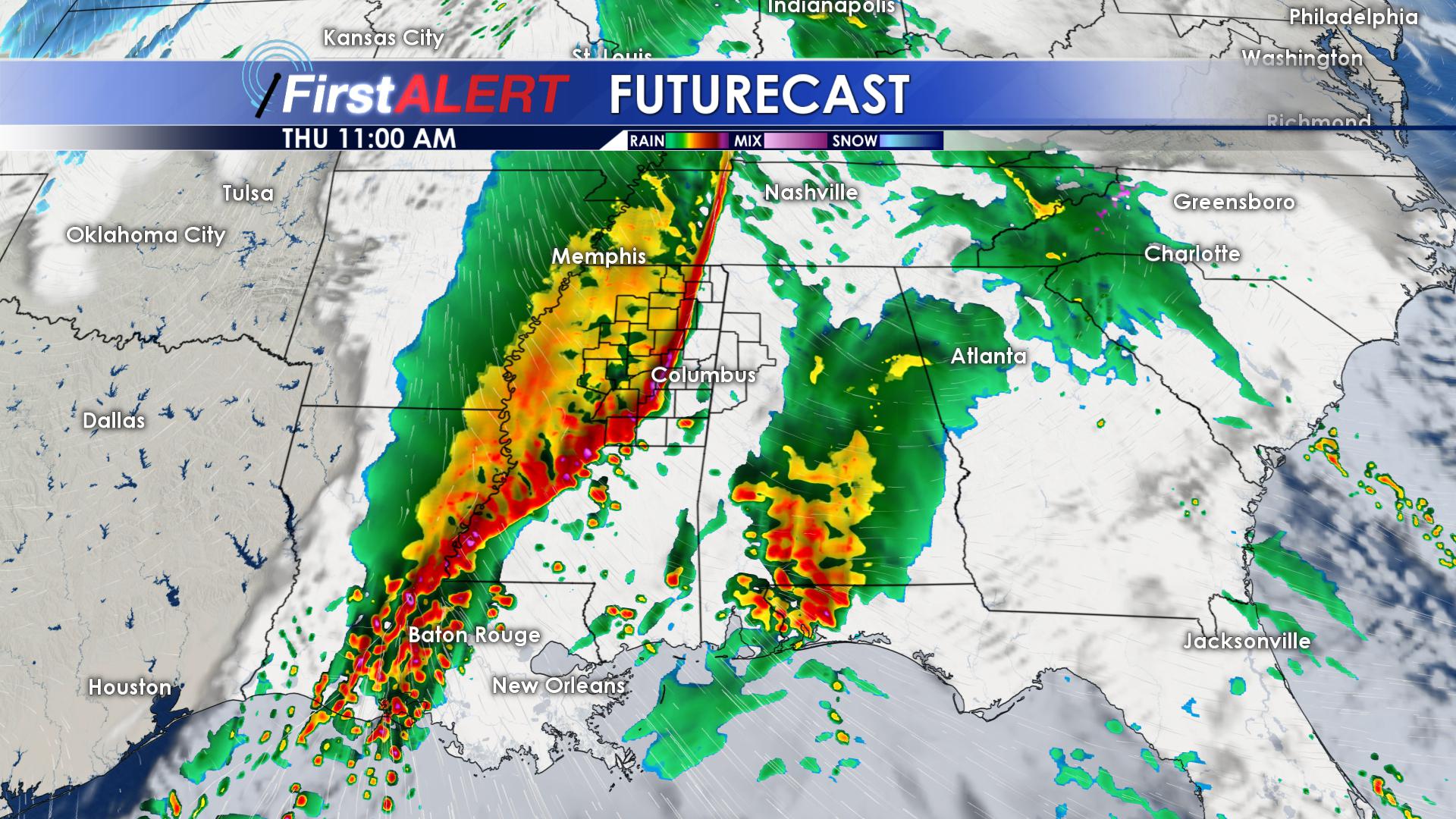 Gusty winds and heavy rainfall will be the main threats with these storms; however, an isolated tornado and small hail cannot be completely ruled out. The greatest risk of severe remains to our south and west.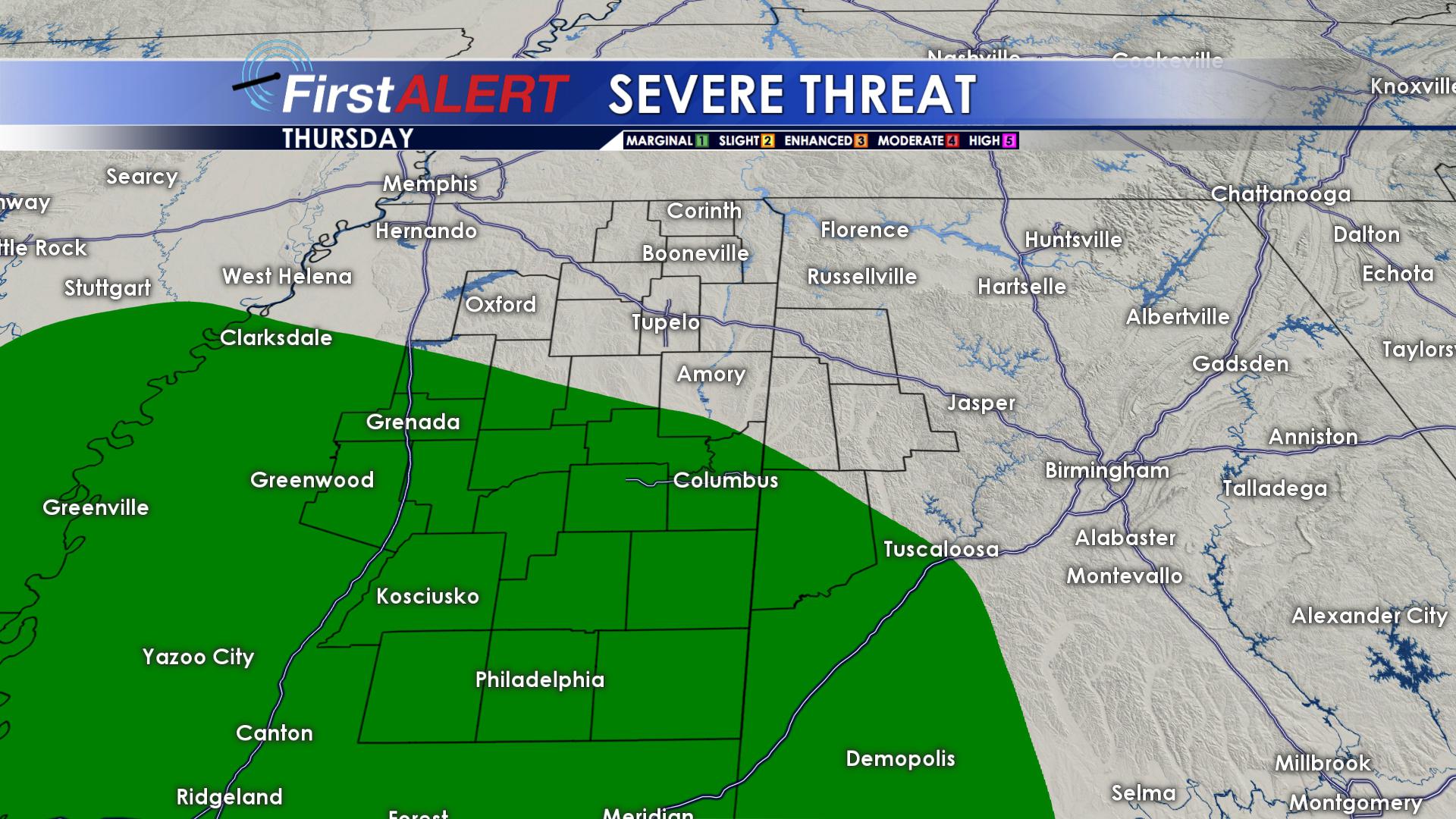 Many locations across the area could pick up close to 1.50″ or rainfall on Thursday, with most of us seeing at least 1.00″. Highs on Thursday will be in the middle 60's. Overnight, heavy showers will remain with lows in the upper 50's.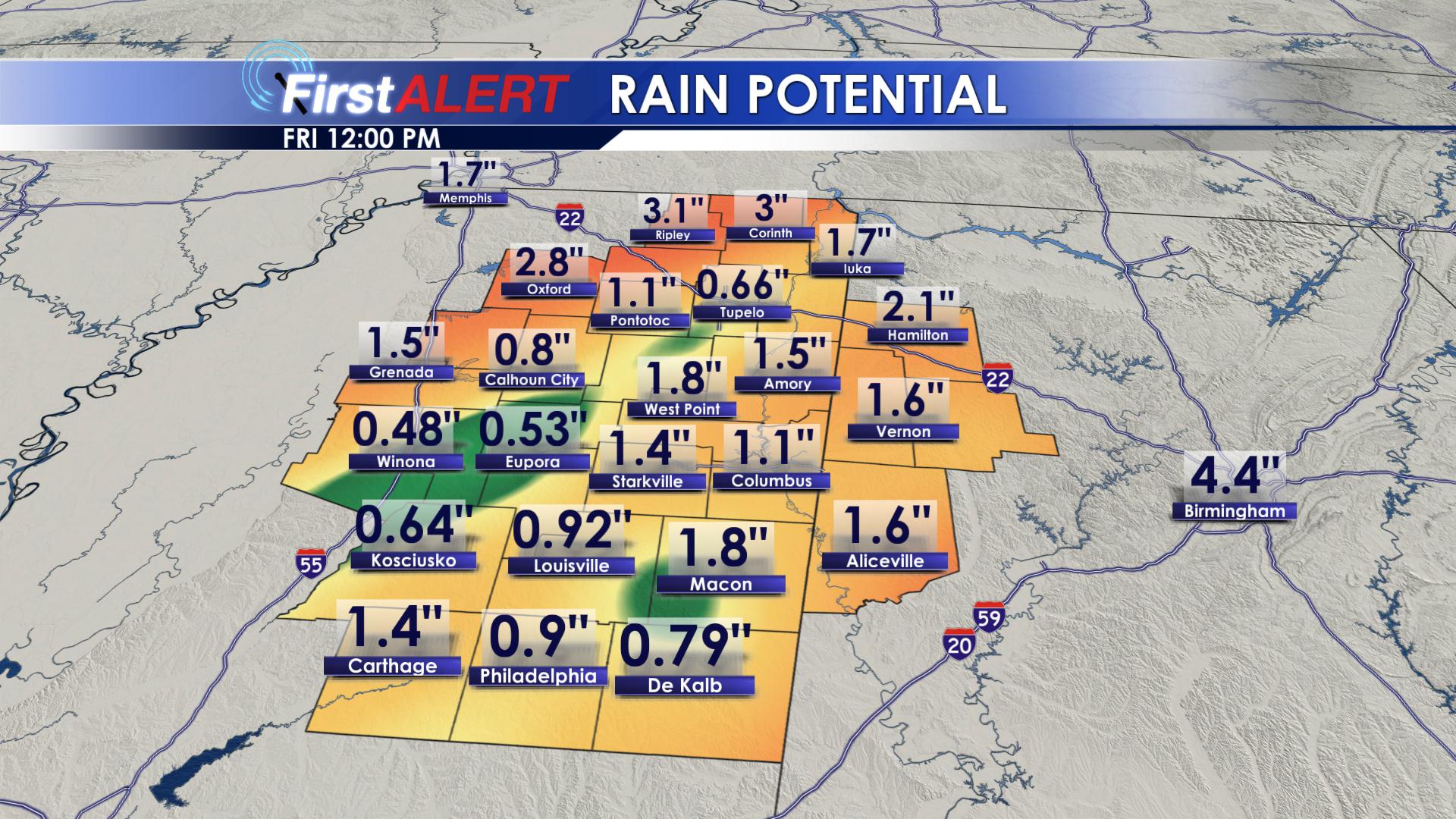 FRIDAY/SATURDAY/SUNDAY: Showers will hang around throughout the morning hours on Friday. Winds will shift from the south to the northwest on Friday, with high temperatures reaching the middle 60's. Friday night will be mostly clear, allowing temperatures to drop into the lower 40's. On Saturday, showers will move back into the region from the south during the afternoon and evening hours. Highs on Saturday will top out in the lower and middle 50's, with overnight lows in the lower 40's. Showers will stick around on Sunday, remaining isolated in nature. We will reach the lower 50's during the day on Sunday, with overnight lows back into the lower 40's.
MONDAY (New Year's Eve): Rain chances will increase on Monday, as high temperatures remain in the lower 50's. The heaviest of the rain looks to move in during the afternoon and evening hours. The fireworks forecast is looking wet, with overnight lows dropping down into the lower 40's.
TUESDAY (New Year's Day): We will start 2019 off mostly cloudy but dry, with highs in the lower 50's.
FOLLOW US ON Facebook, Instagram, Twitter and Snapchat @WCBIWEATHER